Gone are the days when you could only buy wooden decking, now you can buy composite decking. This type of decking has resulted in a huge change in the decking industry as it's easier to use and much more convenient than many of its counterparts.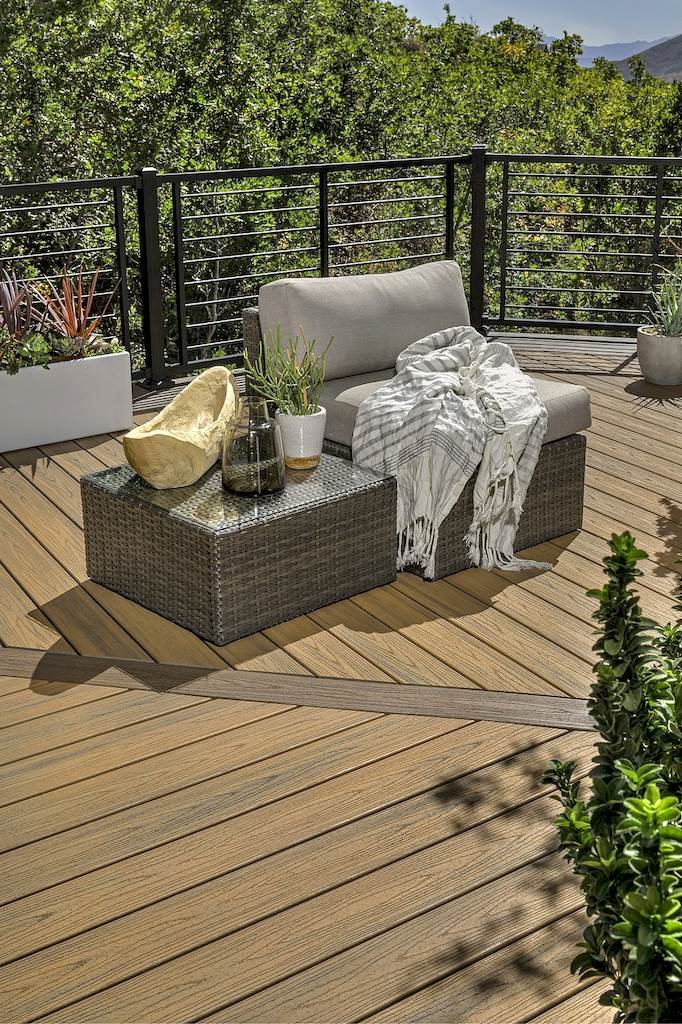 ---
Read Also:
---
Manufacturing Composite Decking
Composite decking is made from plastic and wood that has been recycled. It is manufactured in such a way that it ends up looking like wood.
The recycled wood is usually sourced from wood fibre, sawdust, and wood chips. The plastic is usually sourced from factories and other locations to prevent it from reaching landfill.
During the manufacturing process, a preservative and a pigment are usually added. The mixture is then heated and formed into a board shape.
Resistant to rot, composite decking will not splinter and it won't need to be painted or sealed every year. This makes composite decking a very convenient material to use.
Building a Deck
When it comes to building a deck, you are likely to find that this type of decking is more expensive than wood. However, it lasts a lot longer and it doesn't need to be maintained very often.
This means that over a number of years, your new composite decking will turn out to be cheaper.
When you're building a new deck you will use the same foundation as you would for other types of decking. However, there are some differences in the way they are supported and gapped.
You will need to use more joists than you would if you were building a wood deck. You'll also have to adjust the deck's framing depending on the pattern you're using.
Make sure you don't rush the building process, it's important that you get it right. Take your time, follow the instructions and your new composite deck is likely to look great.
Creating Gaps in Your Decking
The good news is the manufacturer will give you a guide as to how large the gaps need to be. You need to use gaps to accommodate for the compression and expansion that occurs.
When it comes to working out how many fasteners you'll need to multiply the number of joists you're using by the number of composite decking boards.
If you're not sure that you'll do a good job why not hire someone to build your decking for you? They can ensure that the structure is safe to use, it doesn't flood and it looks good. They'll also make sure the gaps in the decking are located exactly where they need to be.
Airflow and Drainage
Airflow and drainage are essential if you want to ensure your new decking is less likely to degrade. You will, therefore, need to build a sleeper system.
This ensures the surface located below the decking is either fitted with a drainage system or it's pitched.
With plenty of drainage and airflow, your new decking is likely to last a long time.
Follow the Manufacturers Instructions
One of the best things you can do when you're building a composite deck is to follow the manufactures instructions. The instructions will be provided as standard and should guide you every step of the way.
If you're not sure that you'll do a good job why not hire someone to build your decking for you? They can ensure that the structure is safe to use, it doesn't flood and it looks good.
Slip-Resistant
All composite decks are slip-resistant. This means you're much less likely to slip on them than you are many other types of decking. This is all thanks to the treatment that each piece of decking receives before it leaves the factory.
The treatment means you won't have to worry quite so much about little ones slipping on your new decking. This is regardless of whether it had been raining the night before.
Composite decking is a very robust product and it can help your garden to look good. Whether you're planning to have the decking by your back door or at the other end of the garden, it's almost guaranteed to look good. Think about what you want to do with your decking and how often you'll use it.