In a world where most people are in a rush to get things done, taking a quick shower is the norm. It is hard to find time to soak in a bathtub and enjoy total relaxation.
But we all should make time to do this as there are many benefits from doing this.
Also, there is nothing like a long luxurious spa treatment at the end of a long day or on a weekend. However, heading to your local spa takes precious time which presents another challenge.
The good news is, as long as you own a bathroom, it can be transformed into your own private spa.
Whether you are looking for a minimalist design, a contemporary or a traditional style, this can easily be achieved with a little planning.
Once completed, you are free to use this luxury space at any time to unwind and gain all the benefits of a relaxing spa bath at home.
Invest in a Jacuzzi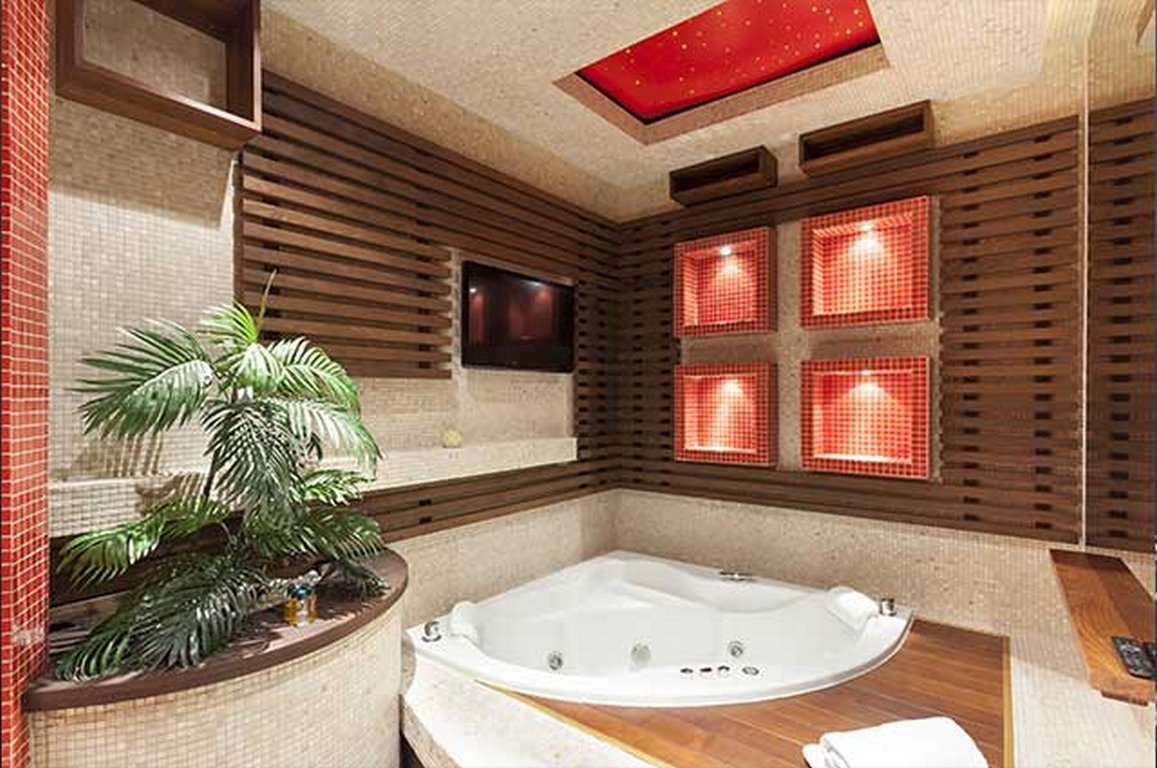 The bubbling water of a Jacuzzi and the essential oils you add is the number one thing you need to create that spa-like experience.
With a hot tub in your bathroom, you don't need to head out for this luxury treatment. The steam from the Jacuzzi will also create an alluring atmosphere.
The other advantage of this is that you can add different types of oils, scents, and soaps as per your preferences. Besides soaking, this is an excellent addition for massage, relaxation, and hydrotherapy.
Whether you want to soak as you let your mask set, relax your body, or lay back as you treat your hair, a Jacuzzi will come in handy.
---
Read Also:
---
Incorporate River Rock Flooring
When performing a bathroom makeover to give it a spa-like atmosphere, natural elements are essential. One trick is to incorporate river rock flooring which is commonly found in professional spas.
If you can afford river rock flooring then go for it, if not and you still want the same look, there are some other options. One option is porcelain tiles or river rock mats.
Depending on preferences, there are different types of pebbles that you can choose from too.
Bring More of the Outdoors In
Dated bathrooms rarely have plants in them. During a remodelling, this would be a great addition to not only bring a touch of nature into your tranquil space but also to filter and purify the air. It is, especially for those who are little more nature conscious too.
It is a sure way of enhancing calm, relaxation, sophistication, and creating a sense of invitation. Remember that the plants you choose should be easy to care for and be suited to the bathroom environment.
Aloe Vera plants, orchids, Chinese evergreens, Boston ferns, and African violets are some of the plants that will do well. They will easily thrive in dark, damp, and humid conditions.
As you go for this, get creative with where you store them in terms of hangers or pedestals as they should blend in with the rest of the decor.
Add a Massaging Showerhead
If your bathroom is too small and you cannot fit a Jacuzzi or a soaking tub, you can install a massaging showerhead for a similar effect.
Even if you have a Jacuzzi, a massaging shower head is something you use daily when you don't have the time for a soak.
There are fixed mount ones, dual showers, and those with adjustable height. Besides, they have varying features that will enhance your experience.
The beauty of this accessory is it can relieve joint discomfort, muscle tension, and stress.
Incorporate Earthy Tones
The moment you step into a spa, the first thing you notice is the tones. The common muted earth and white tones of the space are clear. Plus, natural lighting can do wonders to a dark space.
Although you may prefer an all-white bathroom that exudes luxury, add some natural tones for relaxation.
If you cannot enjoy nature as you relax or take a shower, natural colours can inspire the feel. Choose high-gloss paint in different hues of beiges, greys, browns, and soft greens. These colours help in making the bathroom look more spacious.
Add Some Artwork
When remodelling a bathroom to create a spa-like feeling, this should be incorporated. Professional spas have some unique and sophisticated artwork that can be found in stores. It makes the space dynamic, and it does not have to be complicated.
For example, you can opt for a feature wall or even one large artwork.
With the different aesthetics and styles that are available, you must find your style first. You have to buy wall art that you appreciate and one that will blend in well.
Another thing to consider is where the paintings will be hung. You must do so to avoid buying an artwork that will not fit in place.
Where do you hang it? It will highly depend on the layout of the space. One of the best places to have it is right opposite the bathroom mirror.
Add Spa-Like Lighting and Music
Lighting and soothing music are some of the amazing experiences in a spa. This can be achieved during bathroom remodelling by adding inbuilt speakers and feature lights.
The atmosphere is always relaxing with dimmer lights and ambient music in the background. Installation of lights should be done by an expert.
When selecting what music to play, ensure you choose relaxing tunes. Not just any music otherwise you will miss out on the spa-like experience.
Get Creative with Storage
Clever storage space can make your bathroom feel and look like a spa. Everything should be well and neatly organized to look decadent.
For example, unique glass jars can be used to store small items, toiletries and lotions can be stored in vanities, while wicker baskets can be used to store towels. It is all about being creative.
Your options are not limited if you are yet to incorporate shelves and cabinets. Corner storage and floating glass shelves are some more options to check out too.
Takeaway
Be it you have a large or a small bathroom, you can create a spa experience. All you need is to be creative with your remodelling.
Regardless of the size or the layout, it can be rejuvenating and relaxing. You do not have to spend lots of money to achieve this as besides investing in inexpensive techniques, you may only need to change a few things.
For example, you can add some houseplants, curate candles when in the bathroom, and add a massaging showerhead. Adding music and dimmer lighting will also create a spa-like atmosphere.
Get creative and work within your budget to create a spa-like experience at home.