We all agree that the living room is as important as your bedroom. It is called the living room because it is a part of your house where most of the social activities happen. It's one of the rooms you want to be flawless for yourself, your family, and your guests.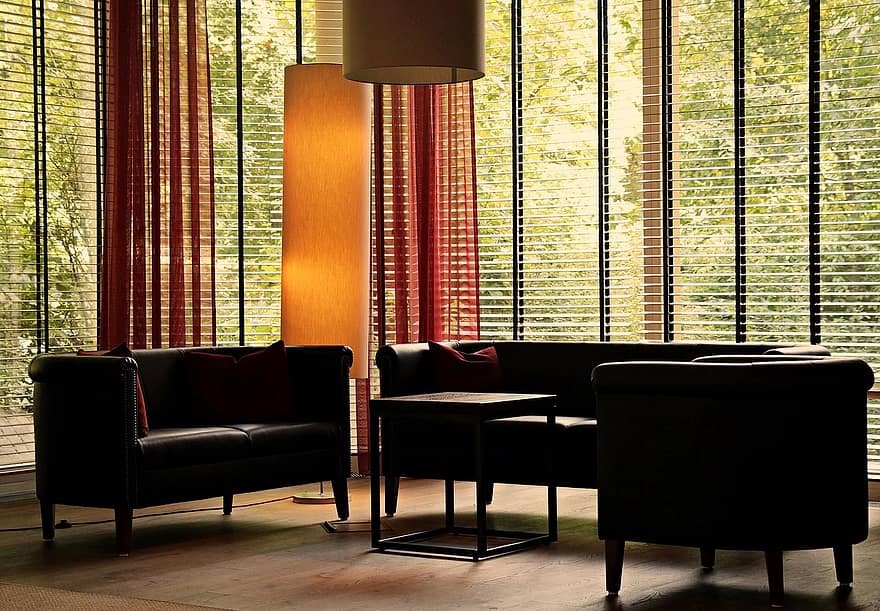 We all use our living room in different ways, and as such, our taste, our personalities, and what we feel is important to us should reflect in the window treatments we install in the living room.
When it comes to the choice of blinds, there is no shortage of options, and the right ones will provide your living room with the perfect combination of style and light regulation.
Also, it helps to think about your lifestyle when you're choosing living room window treatments. You'll find several living room blinds and shades that are as trendy as they are practical, whatever your particular need.
Here are some ideas about modern window blinds for your living room.
Wood Blinds
Perfect fit wooden blinds would be an excellent choice for your living room windows, providing comfort, protection, and noise reduction. Wood blinds, revolving up to 180 degrees, often have excellent light access.
If you avoid fabric blinds, buying wood blinds that look like a part of the furniture is a smart choice.
The wood's texture and colour are rich and add warmth to a room. In terms of lighting, it is adjustable, and you can control it to ensure you have the exact light and privacy you want.
These blinds are not typically mounted on large windows because wood is much heavier than cloth, as the weight will stress the cords, causing faults.
---
Read Also:
---
Roman Blinds
With elegance and refinement, Roman blinds are the best. A Roman blind sits neatly inside the recess without taking up valuable space, especially suited to petite living rooms with small windows.
To make this type of blind, you can use nearly any material. We suggest you consider the style you want to attain before you go and shop roman blinds.
Furthermore, the wood's texture and colour are rich and add warmth to a room. In terms of lighting, they are adjustable and can be controlled to ensure you have the exact light and privacy you want.
These blinds are not typically mounted on large windows because wood is much heavier than cloth, as the weight will stress the cords, causing faults.
Roman blinds can, of course, also be used in larger living rooms and even in bay windows. The neatly folded fabric ensures that your windows, whether your blinds are lifted or fully lowered, look elegant and stylish at all times.
Venetian Blinds
These versatile materials, from aluminium to titanium, fit all kinds of types. The Venetian Blinds will give you the illusion that your windows are wider than they are, a perfect style for your decor to either complement or contrast.
There are a variety of functional characteristics to help sing the virtues of these slatted beauties, apart from the apparent design and colour qualities that Venetian blinds offer.
In addition to that, Venetian blinds provide complete control over the levels of lighting in your home, as well as good levels of privacy.  Merely tilting the slats backwards to face the window a little would deflect and disperse any direct sunlight.
Smart Blinds
Smart blinds, like smartphones, smart TV, and any smart devices, takes technology to another level.
Not only are they powered automatically, but they can also be operated by an app or your voice, coordinated with Apple's Siri, Google Assistant, or Alexa from Amazon.
Furthermore, Smart blinds can also be configured to change based on the time of day, the amount of sunlight that reaches them, or whether they sense motion. These features have a far higher price tag than regular blinds with good old-fashioned pull cords.
Roller Blinds
Unlike most other designs, roller blinds take up much less space. When opened, they are super convenient, as they recoil into a simple cylindrical form. It is super easy to use and offer your windows a snug fit, blocking the light if necessary.
A variety of colours, patterns, and designs come with roller blinds. Some of these styles complement the room's traditional decor, while others make your room look modern and fashionable.
Therefore, it is always important to choose a roller blind that perfectly complements your room's existing decor.
Based on the design of the room, you need to spend some time comparing the colour, pattern, and design of the window blinds. Also, you can use a range of different materials to produce roller blinds: fabric, vinyl, wood, and aluminium.
Vertical Blinds
Vertical blinds consist of a range of vertical fabric louvres or slats, which can be twisted to shut down and darken the window or opened wide to allow much light.
It is great for the light entering your home to be controlled. They are perfect for covering sliding doors and look stylish regardless of the length.
In addition to that, these blinds, particularly for covering large areas, are affordable. You can decide with vertical blinds whether to have them fully open, closed, tilted just enough for light to come through, but still offer external privacy, and so on.
Also, by placing all the louvres in an open position and then pulling the cord to transfer all the louvres to one side or another, the blind can be opened completely to reveal the window.
Like a pair of curtains, you can choose to have your vertical blinds split in the middle, so half the louvres move to the left, and half the louvres go to the right.
Takeaway
Don't limit yourself to just getting the same window treatment for your house. When it comes to the preference of window treatments for your living room, there are multiple choices open for you to explore.
You just have to know what design, colour, and style you are aiming for in your house, then pick the best blinds for you, then pick the best blinds for you.