If there is one thing from the sixties that has to remain timeless despite its fun, retro articulation, it's the Egg Pod chair by Eero Aarnio. Its space-age aesthetics and unique outlook still inspire many, so here is everything that you should know about it: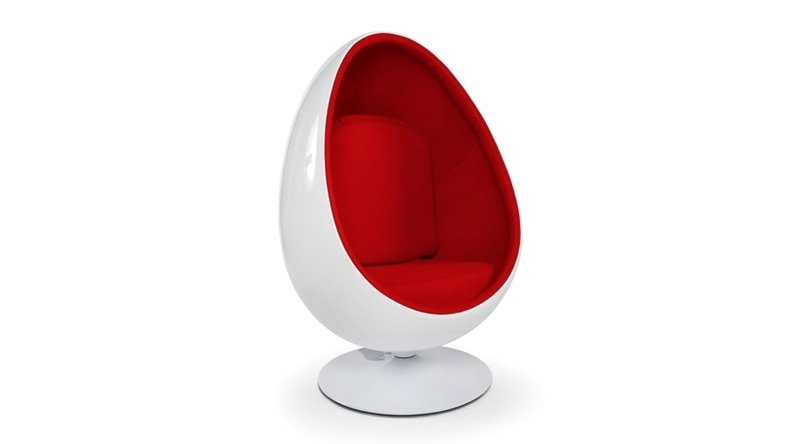 About the Designer
If pop culture could be immortalized in physical form, then you'll get the designs of Eero Aarnio. He was a Finnish interior designer whos way with innovative furniture designs earned him an American Industrial Design award in 1968.
His creations spanned the new-age category and were inspired by science-fiction – even used in some movies of this genre. The simplicity of his furniture fit in really well with the modernist hullaballoo of that era and is timeless enough to be relevant even to this day.
Most of his latest designs and prototypes can now be publically viewed at his webshop and first Design Eero Aarnio Showroom in Helsinki.
---
Read Also:
---
About the Product
Classic and forever fashionable, the Egg Pod chair was inspired by the cozy aesthetic of the Ball chair from 1963. It's roomy, comfortable, and has a futuristic aura that makes it appealing to all contemporary sensibilities.
The outside of this chair has been designed in the shape of an eggshell whose front has been carved out to deliver a nest of space. It's like a room within a room – your very own 'pod' – and protects the user from outside interference (mostly noise) while providing a relaxing place to sit down and do your thing. Its privacy is one of its most appealing qualities.
The whole decade of the 60s was a dedication to the space age phenomenon, but very few of those things could withstand the tests of time. Andy Warhol, The Beatles, and the Egg Pod chair are one of them.
Despite its 'hard outer shell', this chair is the epitome of inviting – you simply cannot help but want to cocoon yourself in it at least once. This experiential design is part of its charm as well.
About the Materials
While the overall aesthetic of the Egg Pod chair is quite fun, it's also pretty durable. The egg inspired outer has been molded from fiberglass and its seating is padded with wool fabric or leather. The glossy laminate of its fiberglass shell stands on a high-quality ball bearing swivel mechanism.
This chair also comes with a fitted and removable cushion so that you can lean back in comfort and enjoy whatever you're doing.
Points to Ponder Before Purchase
Nearly fifty years after its conception, the design of the Egg Pod chair remains a total classic. Although its design is universally appealing, here are a few things you should consider before you buy it:
Size: The size of the Egg Pod chair is considerable and not exactly suited for small spaces. So, it's always recommended to eyeball the scale of your space before making the final purchase.
Aesthetic: The second thing that you should consider before purchasing the Egg Pod chair is if it suits your overall home aesthetic. You cannot put something so futuristic in an old-school vintage theme. So, make sure that your space is capable of highlighting and complementing its personality before you buy it.
Suitable Interior Design Styles
Here are a few interior design styles that are suitable for featuring the Egg Pod chair:
Futurist modernism
Contemporary style: The contemporary look is always timeless because it features classic interior design elements and buzz-worthy trends. The ageless aesthetic of the Egg Pod chair would fit in really well within such an ambiance.
Eclectic style: Since we're always mixing and matching things within the contemporary style, it goes without saying that the Egg Pod chair would be a great addition in such a space. You just have to be careful about how you surround it with relevantly dissimilar items for the best look.