The flooring which is specifically manufactured from timber and is designed according to suit the needs of structural or flooring works. The end product is known as the timber floorboards that come in various styles and textures and is very popular in commercial as well as residential space. Because they come with many benefits other than being a beautiful flooring option.
Types of Timber Flooring
There two types of flooring which are:
In the solid flooring category, there are three types of manufacturing styles available. These styles are solid hardwood flooring, solid wood manufacturing, and peeled timber floorboards.
On the other hand, the engineered floors consist of two or more layers of wood adhered together to create a plank. These planks are further graded to achieve better floorboards. Many conceive laminate and vinyl floors as engineered wood floors but that is not the case. While laminate uses the image of wood, vinyl is plastic that looks like wood.
So, whenever you are going out in the market to purchase a timber floorboard, you should be aware of the authenticity of the boards and know the installation system of the boards. But, before that, we would like to guide you through the various timber floorboards available in the market and how they cater to your personal needs.
---
Read Also:
---
Types of Timber Floorboards to Purchase From
The market is flooded with various timber floorboards and sometimes, it becomes difficult to choose from the finest collection of hardwoods. This is why we thought that a little bit of concrete information might help you select the right timber for your home. Following are some of the major leaders in the timber market:
American/European Birch is a medium sized hardwood that sprouts in the colder region of North America and Europe. The texture is fine with straight grains and fades color from pale brown to cream. If you have a love for peaceful white interiors, then this timber is the perfect choice for you.
River redgum is a popular choice when it comes to timber floorboards. Many intend to install these floorboards on their deck near the beach. Timber is quite hard and is thus, machined before supply. The suppliers usually trade the planks that impart an appeal quite similar to the deck of an old wooden ship. This hardwood is quite rare and has a reddish brown appearance that goes well with light-colored interiors.
Radiata pine is softwood found in the eastern region. It has a pale yellowish-brown appearance that complements any color. No matter if you love a hip style or sophisticated home interiors, this softwood leaves its mark. The grains are quite soft that makes it a rare availability to many suppliers.
Installation of Timber Floorboards
Installing a floor is a critical task, especially when it comes to timber or wooden flooring. It is always advisable that you call in an expert to deal with the matter. They have appropriate equipment and ample experience to know the procedure.
However, there are certain things you must know when it comes to installation because many professionals tend to do incomplete finishing. This is due to the lack of knowledge of the customers of what finishing operations are needed to be done on wooden floors.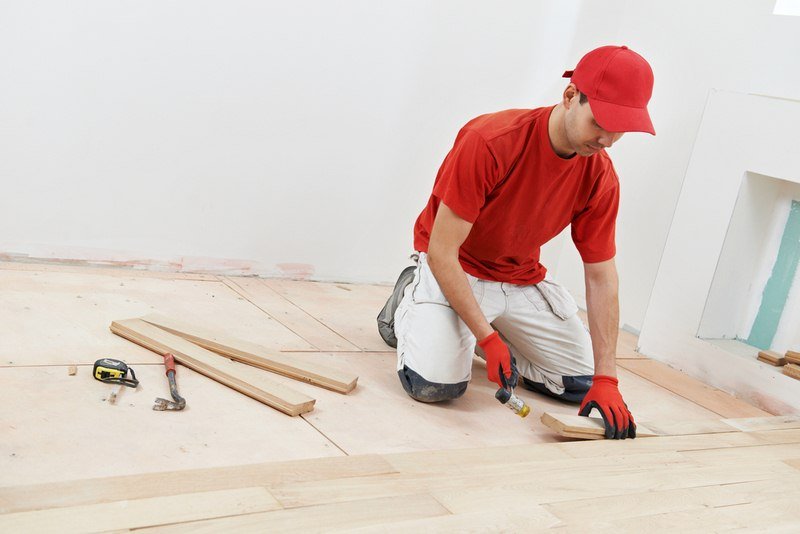 So, there are four finishing operations that you must take care to keep the appeal intact over years. Floor sanding and buffing are two important tasks that wooden flooring requires every once in a while. After these operations, refinishing is done to achieve smooth granular texture as before. Lastly, floor finishing is done by applying varnishes or polyurethane coating.