Sometimes, you get too used to the design of your house that it doesn't inspire you anymore and everything just looks stale.
More often than not, the decision to buy a new house or refurbish the house comes into mind. However, has it ever crossed your mind that you could change the look of your house? Changing your wall colors can make your house look different in an instant.
There is more to wall decor than just fielding one color of paint all through. A number of creative ways to transform the look of your house using the walls abound these days and it remains to be seen what options tick the box for you.
If you plan to transform every department in your house, there are different ideas you could use to buttress the purpose of each room.
You could use lively colors for your sitting room and cool colors for your bedroom, ones that could induce sleep. You can do the paintings yourself with the help of DIY tutorials.
There are several DIY tutorials online enlightening people hands-on on how to do their paintings in creative ways. Let us take a quick tour.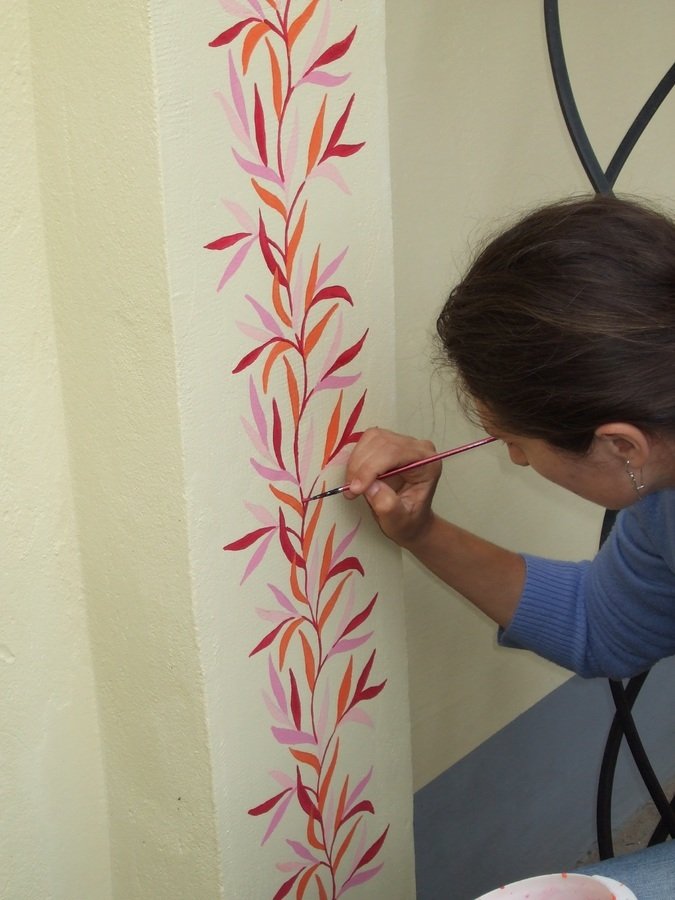 Living Room Colors
When you are talking of leisure, comfort, and togetherness, the sitting room walls should reflect those.
Therefore, it is not a surprise that the choice of colors for the living room walls dictates the overall mood of the home. Here are some top choices for a gorgeous-looking living room.
This color makes your sitting room look more spacious. Though it is a color you can use for any of the rooms in the house, it looks particularly striking for the sitting room.
If you do not want to go all gray, you can put touches of white and paint the door black so that it can make a decorative statement.
This color has a calm and stabilizing effect on your home. There are many attractive shades of blue that can go with other colors like brown or cream.
So, if your living room has a hardwood floor, blue is the best choice. It is a color that brings everyone together.
This is one living room color that people go to again and again. If you love the minimalist look, then beige is the color to go for.
You can add shades of white to make things even more exquisite. It is a go-to neutral color for interior designs.
Bedroom Colors
Your bedroom is where you retire to for a quiet time of your own. So, it can be uninspiring if the color of the walls is boring. You can give your room a vibrant and relaxing feel with these choices of colors.
To get a soothing palette for your room, these choices of colors will be great. Indigo is warmer than blue so it satisfies the blue color purpose with a warm aura. You can use Nippon paint's Tremont blue and white for a perfect combination.
These choices of colors are calming and comforting making it possible for the room owner to easily fall asleep. It makes your room more peculiar and individualized.
This combination gives your room an energizing and rejuvenating aura. These colors can be implemented using Nippon Paint's green cape and wisely pink.
These two color choices are perfect for a warm or cool ambiance. Mixing beige with burgundy makes your room look more alluring. The combination creates a restful feeling.
---
Read Also:
---
Kitchen Colours
For your kitchen, you should consider a kitchen remodel to blend with the painting of the walls. The choice of colors for the walls of the kitchen shouldn't be too gloomy or shouty.
Many decide to keep their RTA Wood Cabinets in magnificent ocean blue to symbolize a calming vibe in their kitchen. The kitchen is the space for multipurpose activities and not just for cooking.
It has become the main spot for entertainment these days. Some families even use it as a venue to help their kids with their homework. So, considering that it is a high traffic area, it should be painted to stand out. Let us look at these choices.
This color is known as the color that fuels hunger. It can also brighten a room instantly just like sunshine. It has a soothing color and will make people feel calm and happy in your kitchen.
This is another color that works well in kitchens. It is a revitalizing color that works best when used moderately otherwise it could overpower the essence of the kitchen.
Home Office Wall Colours
If your employer embraces remote working and seldomly meets all the workers in your region within a coworking space, it would mean that you spend most of your work hours from home.
Creating an office environment at home to help you concentrate will be a good idea and your choice of wall colors would go a long way in achieving that. This below is one of those choices.
If you choose the right shades, these two colors will go well together. They have the ability to calm and brighten your mood at the same time.
You can add little touches of red to boost your energy level up. It is also a perfect example because it makes you have a feeling of not being at home when you actually are.
If this DIY project seems to bring a lot of hassle to you, consider contacting contractors to help you finish this project quickly and safely.
There are many general contractors in Sacramento who are willing to turn your wishes into reality and transform your space in any color that you want.
Final Words
The type of colors you choose for the walls of rooms or spaces within your house have ways of affecting your psyche or activities when you are in those rooms. There are actually tons of colors to choose from, each with its own effect.
Some are proven and that is why they are more common. You can try some of these tips for your house when next you are repainting or if you are painting for the first time.