So, you must be looking for wall decor ideas to revitalize your space. We've got you covered. Give your home a new life with mirror wall decor without breaking your bank.
Well, it isn't just about mirrors; you have to consider many other points if you need to decorate your house walls budget-friendly and chic.
Your empty walls are filled with possibilities, and even with a few additions or alterations, those four walls surrounding you will feel like a home.
Follow these tricks if you are all set to turn your home bare walls into stylish and stunning centerpieces. These tips are simply handy, pocket-friendly, and game-changers.
Ideas to Decorate Walls on a Budget
1. Add Life to Your Walls- Put on Some Color
That's probably the initial step of decorating or renovating walls. The first-ever thing that comes to mind to decorate walls is simply changing or adding a paint color. Well, here are two options, you can either go for white or bright wall paint colors if you want to add up lighter or enhance the brightness.
Or, otherwise, add some chic and bold color that matches the entire decor and sits well with the other decoration themes. For this, many people choose to have light green, plum, or even black color.
Yes! Black walls also look nice but keep in mind your personality, nature, and the house's theme. If you want to keep yourself fresh, go for green shades along with hanging some mini plants.
2. Install Some Mirrors
Mirror wall decor is a superb trick to create more space in smaller homes. Apart from it, wall mirrors add glam to modern thematic homes.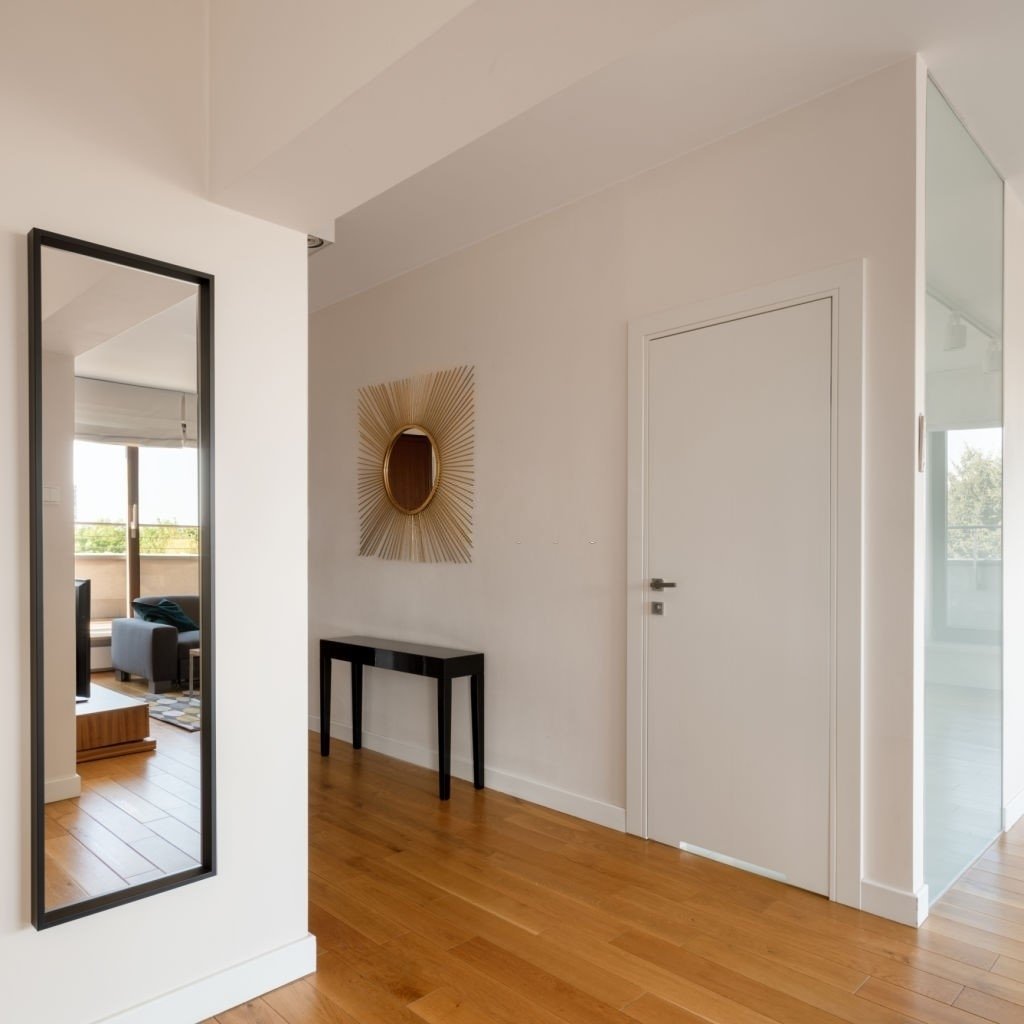 So, you can search for mirrors, as there have been bundles of styles, designs, and even categories available now. But, let us recommend the most popular mirrors all along.
Decorative Mirrors
These mirrors are precisely prepared in order to add style and beauty to your walls. Decorative mirrors can be found in any style, shape, or design, so you can easily select from the bundles.
Frameless Mirrors
Frameless mirror wall decor is at the top, and the reason is their elegance yet high attractiveness. These mirrors come without frames, but yeah, take the home interior to the next level.
Most people prefer to have frameless mirrors for their walls because they are simple, stylish, and elegant.
LED Mirrors
If you need to increase brightness in your particular space, we recommend adding LED mirrors.
They give a clean and moist-free image every time and make sure to increase lighting wherever they are placed. Generally, they are placed in bathrooms, over the sinks, or the vanities.
3. Recreate What You Already Have
Another budget-friendly way to decorate your walls is to recreate what you already have.
You can even reuse the old wine crates to make bookshelves or storage for other stuff. This way, you can increase the storage as well as it's a great hack to cover up your dull walls.
You can use any other such old stuff to recreate something that can be helpful to decorate a wall.
Like an old rug can be displayed on the wall beside the rocking chair. For this idea, you have to add some contemporary decorative pieces, too.
---
Read Also:
---
4. Choose Strategic Lights
Unlike traditional homes, don't rely on a single bulb or tube light hanging on the wall. People these days opt for recessed lights, which is also a good option, but only recessed light wouldn't be sufficient.
What we recommend is to go for different light sources and strategically arrange them. Like, you can add recessed light, hang scones, or place floor lamps near your rocking chair or bookshelf. It will help to increase the overall brightness of your room and leave a brilliant effect on the interior.
5. Go for a Huge Wall Art
Huge or large-scale wall art is perfect for designing a lounge or even a bedroom on a budget. When you opt for huge wall art, you don't have to invest.
Further, it would be sufficient to create a stunning interior decor. It will create a focal point and grab attention easily, along with setting the tone of the entire space.
You can either purchase any portrait, abstract painting or if you're an artist, make sure to paint or sketch your masterpiece and hang it on your wall. What else can be better than your craft?
6. Create a Masterpiece Gallery Wall
If you don't want to add a single art, go for creating a gallery wall. Here, you can display your certificates along with other memorable moments that you have captured.
You might have seen several multi-sized frames hanging on the stairway, and you can also do the same. Either create a gallery wall on the stairs wall or in the lounge.
It is the best way to preserve and display all your memorable moments, and it can be either any certificate or your pictures from your childhood.
7. Exhibit Some Fabric Art
Well, this trick might astonish you because it isn't common. Nobody tries to hang a piece of cloth as art on their walls, but let us tell you that you are not supposed to hang any random fabric.
As discussed earlier, it can be either a rug or some piece of cloth displaying beautiful art or scenery. It's new, unique, and pretty much affordable.
8. Hang Up Shelves
Hanging shelves on the walls increases storage spaces and creates a beautiful pattern of the wall.
So, try to install glass shelves on your walls and let them display your art pieces or your favorite collection of books.
9. Hang Colorful Plates Over the Fireplace
So, you have a fireplace? Didn't install anything above it yet? Here's a brilliant idea: hang colorful plates with different patterns and sizes.
10. Scale a Sculpture
If you are a true art lover, you will never ignore it. Sculptures are a great way to add an artistic tone to your interior in an unusual way. Hang a beautiful sculpture over your sofa or bed.
Finally!
Never leave your walls bare and dull. They can either make or ruin the overall impression of the interior. We understand how much these projects can cost you, so these are the perfect ideas to decorate your walls on a budget.