We are creatures of habit and we're wired to get used to things, people, experiences and most of us have a thirst for "new" that' not easy to satisfy.
We crave change and as soon we're settled in our ways, there's an inherent feeling that we're missing out.
We're Wired to Crave Change
Think about it like this – if you do something that you never did before, say, flying on a private jet, the first time you do, adrenaline will be pumping through your ways and you have the feeling that you it could never get old.
Do you think that people who own private jets have on their 500th flight?
The basics of human psychology provide the answer and it's a resounding, "No."
It Affects How We Feel About the Space We Live In
The same goes for the space we live in – we get used to it and as it happens we find ourselves sifting through interior design magazines. We look at the "mouth-watering" design and daydream about them.
Suddenly, that sofa we used to love so much doesn't seem as appealing as it used to.
99.9 % of use will never be able to afford to change up our home as soon as the feeling of boredom sets in.
What we can do to keep the dynamics going is invest into small accent pieces that will change the "feel" of our space and make it exciting once again.
Breathe New Life into Your Living Room without Breaking the Bank
Below, we'll go over a few ideas that can help us do just that without spending a small fortune every time we want to liven up our living rooms.
Must Read:
The Less Cluttered the Space, the More Impact Details will Have
You don't need to tear apart the room to refurbish it. A tasteful, carefully crafted makeover will do the trick.
If you can relate to what we said above, plan for it to happen in advance by going with a minimalistic approach living room design to being with. Not only does an uncluttered space ooze style but it's the easiest to spruce up.
In a minimal living room, the smallest of details will be enough to add a dash of luxury.
Cheat and Save – Working with What You Have
Most interior designers are the masters of crafting expensive looks on shoestring budgets. It's what the unstable economy calls for. The best part about it, you don't need a designer to do it.
One of the top secrets is transforming items of a "fixer-upper" nature into unique, elegant pieces.
For maximum effect, be bold – if the piece was upholstered in monochromatic color fabric (grays and other neutrals) don't be afraid to go touch on the other extreme by using bold statement colors.
It can be as simple as re-upholstering an old armchair, or spray paint an old ornament or vase to breather new lease into it.
Mix and Match
For a dash of vintage fun, you can experiment with repeated motifs, like an intricate trim that is stenciled on a wall, or repeated upon a window accent. It is an inexpensive, as well as an understated method of adding a designer's touch into the living room which will tie all things together.
Update the Palette
Do you want a new, fresh appearance to your home?
Color is your best friend – it's the single least expensive way to completely transform a space. If you're into following trends, you can always get the creative juice flowing by looking up what colors are trending.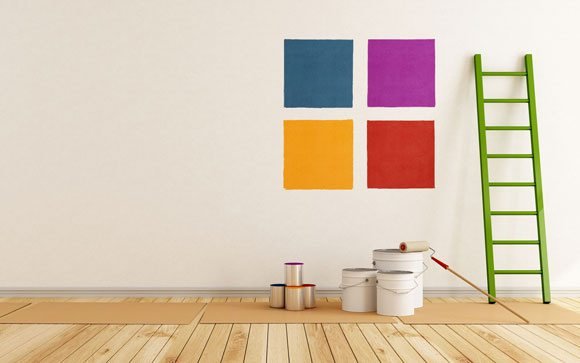 An easy way to follow the color trends is on the Pantone website, they have a page that's updated yearly to reflect the trends.
An Example
The palettes for 2016, Serenity and Rose Quartz, are not simply easy on the eyes, they are very versatile, as well. Update the walls using a new coat of Serenity, or thoughtfully-chosen accents in Rose Quartz. You even can stick with more conservative shades that have bolder tones reserved for statement pieces like a repainted cabinet or armchair.
Mix it Up and Move it Around
Occasionally, the best options are the simplest ones.
Breathe a dash of change into a living space by rearranging all existing furniture.
A healthy way to do it is to re-arrange the piece of furniture so that they face each other – this promotes conversation and interaction. So rather than positioning your couch in front of your television, attempt to place it facing a couple of armchairs instead.
Before you do take on the heavy lifting, use some of the "Virtual Room" programs available online (most of them free for personal use) to see what you can expect.
We're in the 21st century, harness the most of what's out there.
Must Read:
Lighting Adjustments
Lighting can dramatically transform a room's ambience as well as change the perception about the room size by creating depth.
For a budget-friendly and quick method of changing the lighting color, how about changing your bulbs out to those that provide a warmer or cooler glow? Warmer lighting mimics the soft radiance of candlelight and adds a touch of romance.
The most recent trends for in interior design dictate using oversized light fixtures. They work best for smaller spaces, and as statement pieces that will be certain to amaze all guests.
Stylish Blanket or Throw, with a Twist
Heated, electric blankets may assist you in keeping cozy and warm on those particularly frigid winter nights, without increasing your heating bill.
Electric blankets have not always enjoyed the best of reputations. Old models were scratchy and thick, and occasionally posed a fire hazard with prolonged use. That's no longer the case, the best electric blankets and throws available today are safe and come in a range of patterns, colors and sizes to fit the most demanding of tastes.
Think about Safety
We did say that the best electric blankets are tested to adhere to strict safety standards. With that said, you can never be too safe.
Once you have your eyes on a heated blanket or throw that you like, do your research and read the reviews to make sure that you're choosing right. There's no better advice than that of people already using the products – you can see the recent the best-rated heated/electric blankets and throws on and recent recommendations and reviews on TheSleepStudies here.
Pace Yourself
Once you get into the habit of changing you living room, it can get out of hand and you'll probably feel the urge to add something new every few weeks.
That's not the way to go about it, to make the most out of the tips above, be patient, plan the changes that you want to see and distribute them over a time range.
Must Read:
Enjoy the Process and Don't Act on Impulse
A good rule of thumb to keep the dynamics "alive" is to introduce one or two changes to your living room every few months.
A Pro Tip
The added bonus here is that you can adjust what you do to the changing of the season – bring in some extra warmth for the winter and a touch of cool for the summer.
Try some of the tips above and you'll be surprised what small changes can do. If you do it right, you'll never be bored of your living room again.