If you are a dedicated artist, your art studio will be the most significant room in your home. While it is critical to maximize the usability of your art studio, you must try to maintain an appeal that complements your style and inspires your creativity.
Many artists believe that concentrating, not rushing into the process, and working in an environment that encourages creative thought are the keys to having quality art.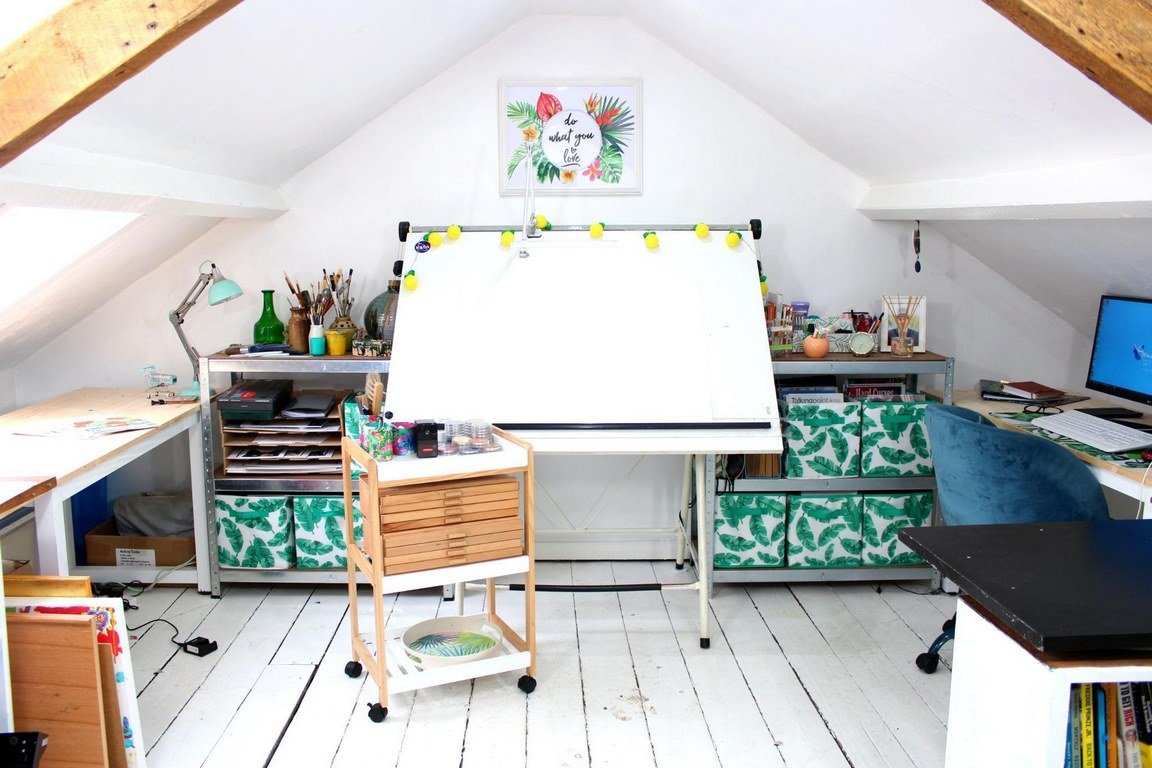 That is why planning the interior of your studio is important so that most of your time is spent on your artwork rather than tripping over unorganized items.
Having a great art studio contributes hugely to your efficiency and success as an artist. Hence, there are some factors to consider before organizing your home art studio. If you already have an art studio but are having trouble putting it together, this article may come to your help.
Must-Have Tools in Your Home Art Studio
Your art studio should be as well suited as possible for you as an individual artist to create beautiful works of art. Here are some items that top-tier painters recommend having in your home art studio.
Neutral Colors
The wall color of your studio is the first thing you need to get perfect.  Most, if not all, artists agree that white is the preferred wall color for an art studio. When you install ceiling lights, this color will brighten up your room and keep you attentive, which is very important as an artist.
Adding white shelves, easels, and chairs to the area will help improve the overall mood. If you want to try something different, go for a neutral or pastel color because the interior color of the room has an impact on your mood.
The room should have enough light for you to clearly mix and paint every tiny detail of your project.
---
Read Also:
---
Chairs, Easels, and Tables
As an artist, you are bound to stand at your desk for a long time. This has a significant impact on posture and gets difficult to paint because of back pain. Arranging some seats is the solution to this problem. Keep in mind that the best chairs for artists must provide adequate back support as well as ease.
For an artist, the ideal table must be robust, have a firm foundation, and last long. The adjustable drawing table is a popular choice among artists.
So, rather than having tables of various sizes, if your room is limited, you can fit just one table and modify it according to your needs. If this is not possible, you can simply get an adjustable easel.
You can choose fixtures to suit your style if you have a larger space and don't mind adding a few extra tables. When buying an artist drawing table, consider variables like quality, durability, stability, and client feedback.
Portable Racks
To make your home studio more accessible, add some portable three-story racks to keep your brushes, paints, pallets, and other instruments you'll need to create the painting or art piece.
Instead of getting up frequently to retrieve some equipment, arrange all your instruments nearby to save time and prevent distractions.
Another option is to place your table or easel against a wall and place wall shelves and cabinets, which allows for easy access to equipment.
However, this will take up space and your workstation will be fixed in one location, whereas the racks can be moved around and come in various sizes, allowing you to choose one that best fits the space you have in your room.
Lights in the Room
When it comes to a proper painting studio setup, lighting is crucial. The color rendering index (CRI) is a metric that determines how colors appear in different lighting conditions. It should be as close to natural light (i.e. sunshine) as feasible.
As a result, when purchasing lights for your art studio, make sure the CRI is greater than 80 (the scale being 1-100, 100 being closest to sunlight).
The best source of light is sunlight if you have windows in your room and have access to it during the day. You can end up with an unsatisfactory piece of artwork if the CRI is less than 80.
White tube light or table lamps should be your first choice along with a mixture of warm lights. You can install ceiling lights or style in some studio lights or lamps depending on the type of aesthetic you want to achieve.
Lastly, the Overall Décor
This section is crucial since it will define your individuality as an artist. Decorate with items that reflect your personal flair. You can display your own artwork or works by your favorite artists to serve as inspiration. You can have some wall or shelf plants in your studio if you like them.
With a great hanging hammock chair, some fairy lights, and a lovely fur throw-over, you can even make a hibernating zone for yourself. Decorate however you want, but keep in mind that the foundations of the art studio must be maintained for you to perform well as an artist.
Enjoy Making Renovating Your Home Art Process
There's no doubt that creating your art studio will be a lot of fun for you. Choosing the correct equipment should now be a breeze if you follow our recommendation. Simply ensuring that your studio is easily accessible will significantly improve your artistic abilities and thinking.
A neutral color scheme for your room, solid, long-lasting tables, and comfortable chairs with decent back support is what you need to establish an art studio; the rest is up to your personal style.
Good luck!