Installing cabinets is a great way to secure as well as organize your home, be it the kitchen, living room or bathroom. Finding the right cabinets can not only increase the functionality but also beauty and appeal of your home.
Who is a Cabinet Maker?
A cabinet maker plays a crucial role in this regard. Cabinet makers are the ones who make or repair furniture.
They usually work on timber-based products and are mainly specialized in redoing antique furniture, bedroom suites, kitchen fittings, dining suites, shop fittings, and occasional furniture.
---
Read Also:
---
What Does a Cabinet Maker Do?
Cabinet maker does a vast variety of jobs. Their main area of expertise is timber.  They usually work with a large number of tools that includes a good saw table, drum sander, and dust extraction system, etc.
Other than this they also use various hand tools such as laminate trimmers, cordless drills, finish staplers and jigsaws.
They do jobs like marking out, cutting and shaping pieces of saws, chisels, planes, power tools, and woodworking machines and so on.
Cabinet maker put together timber and manufactures the board. They form sections of furniture by trimming and pasting joints and suitable parts together.
They apply pressure to reinforce joints with the help of nails, dowels, and screws and form the final products by assembling all the sections. They also add final touches by fixing locks, catches, hinges, and draw.
A crucial part of a cabin makers job is measuring and marking out the perfect proportions, be it for making kitchen cabinets or a piece of furniture.
To give the clients an idea about the final products, the cabinet makers create neat and distinct drawings of them before beginning with the work.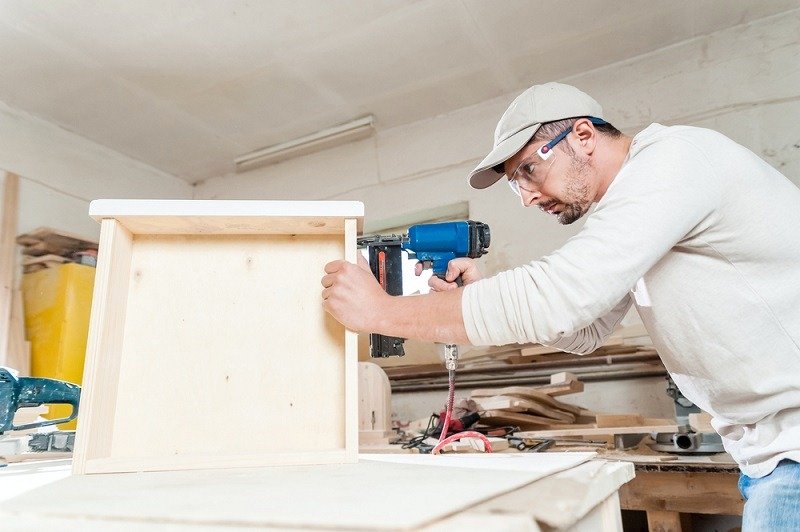 Another important duty of a cabinet maker is to make a systematic list of all the necessary tools and materials that he needs for the project he is about to work on. The type of tools depends upon the design and type of wood he would use.
This is done so that the cabinet maker can stay within the budget for the client. It also saves a lot of time and prevents any distractions or inconvenience in the middle of the work.
How Can They Help You?
Whether it is a commercial or an independent setting, cabinet maker in Brighton work on all types of settings. They usually present a detailed diagram of the furniture or cabinet you wish to have as per your design instructions as per the measurements.
They also help you to know your expenses by sorting out all the materials and equipment they would need for the task.
They can offer a few more ideas and suggestions as well that may suit your requirements. In case you have a prototype or model in mind, the cabinet maker would transform it into reality. Cabinet maker in Brighton have a bright mind and can make the most out of the space and ideas that you have provided.
A good cabinet maker in Brighton is someone who maintains contact with you whenever you want to get your opinions on your furniture requirements. This way he can create the home of your dreams. They combine modern ideas with traditional designs to create unique pieces of furniture for your home.
They will also be more durable keeping in mind the fact that only good quality materials will be used for such purpose under your guidance. The only effort that you need to put in this whole phenomenon is to get hold of the right cabinet makers available in the market.
Hence, by choosing the right cabinet maker in Brighton, you can fill your home with classy woodwork that can surpass your expectations and lost for decades.