Living in a small area is always a challenge.
But with a little innovation and creativity, you can make a small apartment feel much bigger.
Try these tips and tricks to arrange your stuff in the most space-efficient way.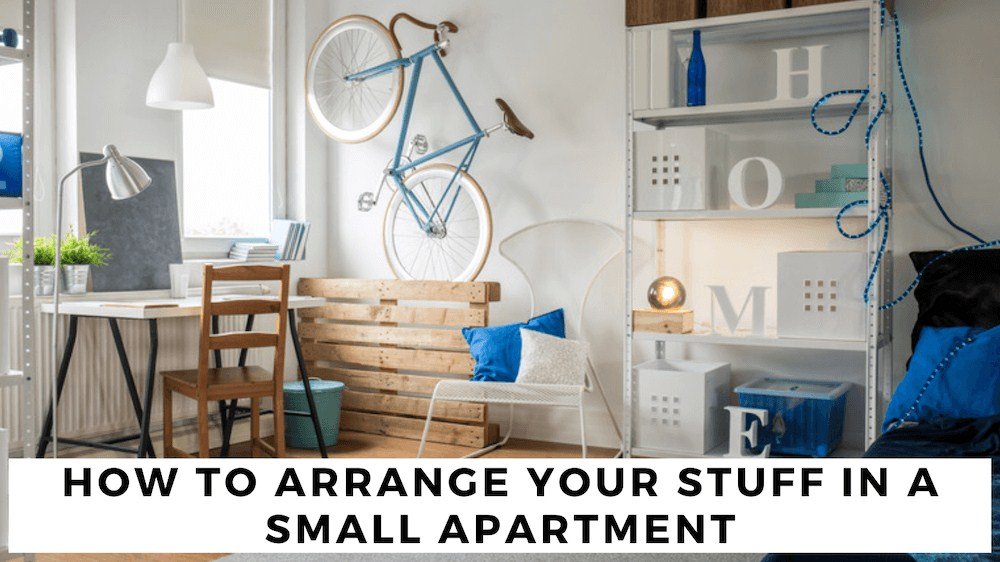 Under and Over the Bed
Your bed is probably the biggest object in your bedroom.
Since it takes up so much of your precious floor space, you have to use it for more than just sleeping.
By maximizing the space underneath it, you'll be able to make the most of the square footage in your room.
---
Read Also:
---
Ottoman Bed
Using your bed as storage space isn't a new idea. In fact, ottoman beds have been around for years.
An ottoman bed is mighty handy in a small apartment. You can store a lot of things inside them, and you won't have to crawl under your bed to access your stuff.
Rolling Bins for Storage
If you can't buy a whole new bed, don't worry, there are plenty of other ways to utilize the area under your bed. One way is by using rolling bins to store your goodies underneath.
Wheeled bins are much easier to slide in and out from under the bed than traditional ones.
Add Risers and More Storage
If your bed is so close to the ground that you can't store anything underneath it, consider adding risers. They're easy to install and they'll raise your bed up a few inches.
Voila! More storage space!
Storage Bed
Even the bed frame itself can be used as a multifunctional storage space.
For example, you might buy a bed frame that has storage space built into it. Whether it comes with drawers or cubbies, this extra space is very useful.
Some bed frames even have shelves built into the headboard or footboard. You can use that space for anything from books to shoes to clothing.
If your bed doesn't come with built-in shelves, there are other options. For instance, you can hang a shoe organizer on the back of your headboard to organize footwear or accessories.
Storage Furniture
With such limited space, sometimes you gotta think outside the box (or, I guess, inside the box). Try to find furniture that doubles as a storage solution.
Here are a few examples:
Room Divider Cubbies
These little wonders can break one room into two rooms. By placing them in a strategic spot, you'll divide up your room and open up some storage space at the same time.
Coffee Table
Today's coffee tables offer a lot in the way of storage. Whether the entire top comes off or the sides are full of drawers and cubbies, there is no shortage of dual-purpose coffee tables out there.
Pull-Down Table
Whether you want a multifunctional dining table or you need a makeshift desk for your home office, a pull-down table can save a lot of space by virtually disappearing when not in use.
They're easy to attach to the wall. When you need it, simply unfold it, drop the legs down, and you'll have a tabletop. When you're done, you can fold it back up!
Get Creative in the Kitchen
Now for the kitchen. It can get tricky here.
Yes, most kitchens come with cabinets, but with a little creativity, you can make your cabinets a lot better.
Over-the-Sink Dish Rack
Some of these can hold an entire set of kitchen dishes! They're really quite helpful in the kitchen.
You may be able to keep your dishes stored in an over-the-sink rack, along with soap, sponges, and much more. A perfect solution for people with limited cabinet space!
Cabinet Door Storage
Most people focus on organizing the shelves inside their cabinets. But it's easy to forget to utilize the space on the door itself.
There are many ways that this area can be used, especially under the kitchen sink.
For example, you can hang a small garbage can on the back of your door for easy access. Or, you can hang hooks on your cabinet doors for dish towels and grocery bag holders.
Use the Fridge
Don't forget the refrigerator! You can make good use of the area on top of the fridge by adding baskets or bins.
You can even add a magnetic shelf to the side of the fridge, or a skinny rolling cart between the fridge and the wall. Both of these are great options for storing spices and other dry goods.
Pegboards for Storage
If you lack space for pots and pans, a pegboard can come in handy. When you add hooks or pegs to this board, it's sturdy enough to hold even the heaviest pot.
Make Your Own Closet
Closets are the go-to storage space in any home, but you can make a few adjustments to enhance their storage capabilities.
Mount some hooks to the side-walls or the inside of the door to hang things like umbrellas, scarves, hats, and more.
Or, you can mount a shelf to the side-wall and attach a rod to extend the hanging space and store things on top.
You can even create a mini ironing area by attaching a flip-down ironing board to the door or wall of your closet.
Smart Bathroom Organization
Don't forget about the bathroom! No matter how big it is, a few small adjustments can help you take advantage of this space.
Shower Caddy
Instead of having a messy, cluttered shower, install a corner caddy to keep your bath products organized.
Over-the-Door Rack
Again, doors don't get nearly as much attention as they should. Hang a rack over your bathroom door for towels, washcloths, and bathrobes.
Under-the-Sink Organization
In most bathrooms, the space under the sink is an organization nightmare. Installing a few cabinet dividers in that space will help you keep your essentials in order.
Over-the-Toilet Shelving
Whether you mount shelves to the walls or get an over-the-toilet shelving unit, this area should be put to good use.
In Conclusion
Don't let a lack of space get you down. As long as you look for clever ways to store your stuff, you can live comfortably in even the smallest apartment.
Rearranging your apartment may be all you need to do to transform your apartment. Try some (or all) of the strategies above and you can make your apartment feel like a whole new space!
---
Author Bio:
Angus Flynn, Business Manager of Arte, has been with Alliance Residential Company for over five years. He has extensive experience with a variety of properties, from large lease-ups to smaller, more urban assets.
---