Let's be honest – if you can hire a professional to do your carpet installation, this should always be your first choice. Especially if you have an old carpet to rip up and dispose of.
But this is not to say that DIY carpet installation is impossible – it's just time-consuming and you need the right tools for the job.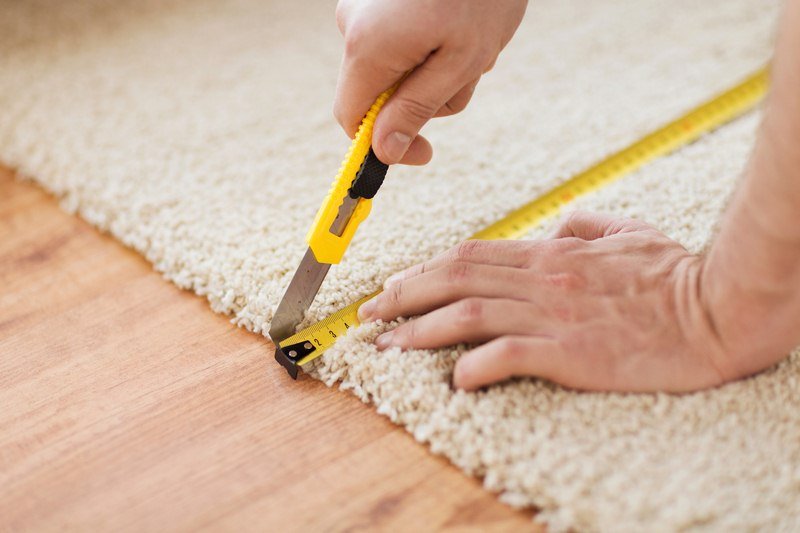 But, if you're on a tight budget and want to save on carpet installation costs, here are a few handy tips on how to install carpet in your own home.
8 Handy Hints on How to Install Carpet Without a Professional
There may be a number of instances when installing your own carpet could benefit you in the long run. Perhaps you have an awkwardly shaped room or staircase to re-carpet and would prefer to tackle the installation yourself?
This could save you money rather than forking out extra for a special service. Or maybe you just love DIY projects and want to add carpet installation to your repertoire!
Whatever the case may be, carpet installation requires time, effort, and the right type of tools. And not-to-mention, constant maintenance. For carpet cleaning tips, check out these details.
Bear in mind that some of these tools are expensive to buy, so your best bet is to hire them out for the duration of your carpeting project. Now, let's get into the helpful stuff.
---
Read Also:
---
Add 10-20% to Your Carpeting Estimate
The reality is that you're bound to make a couple of mistakes when installing a new carpet- especially if it's your first rodeo. Make provision for this by ordering and purchasing 10-20% extra in your carpeting — carpet cost between $4.50 and $7.00 per square foot.
It's always better to have more carpet than less, especially if you have small gaps left over after the main carpet areas are covered.
Rent Out the Tools You Need
Don't make the mistake of cutting up your carpet with a simple utility knife and just rolling out your carpet across the floor. There's a little more to carpet installation if you want long-lasting, high-quality results.
Carpet installation requires a standard set of tools, including a hammer, utility stapler, tin-snips, chalk-line, and a utility knife.
Aside from this, you'll also need carpet-specific tools such as steam iron, power stretcher, and knee-kicker. It's best to hire these specialty items from your nearest tool rental or home center.
Let the Carpet "Settle In"
It's super important to let your carpet adjust to the temperature and humidity of your home before you roll it out and tack it down. This is because it could expand or shrink based on the environment inside your home.
Allow your carpet to settle in for at least 24-hours before you roll it out and get to business. You can leave the carpet rolled up during this time and make sure you leave in the exact room it's going to be in.
Take Your Time with Carpet Stretching
Don't even think about installing a carpet without a stretcher. What was once a beautiful, smooth carpet could look wrinkly and lumpy without carpet stretching.
Take your time when it comes to this process and put some real effort into it – it will make all the difference.
You can use one of two tools for this job. Either a long power stretcher that braces against the walls to stretch your carpet out. Otherwise, a knee-kicker does a good job of pushing the carpet edges into the corners, over the tack strips.
All-in-all, 90% of the success of your carpet installation relies on carpet stretching, so don't forgo or rush this step!
Always Leave a Gap Between Tack Strips and the Wall
Tack strips are very important in carpet installation. They keep your carpet in place and act as anchor points for the edges of your carpeting.
They are basic strips of wood, fitted with sharp-ended tacks. They should be attached to the floor beneath your carpet, around the perimeter of the room.
However, don't make the rookie error of placing your tack strips flush against the wall. Always leave a small gap between the wall and the tack strip so that you can tuck the carpet edge over the tack strips for a neat, finished look. This also means the tucked portion of the carpet is wedged in place and won't lift over time.
Make a 5% Provision for Patterned Carpet
Generally, you will have a little more waste when it comes to patterned carpet, rather than plain. This is because you'll need to cut and seam your carpet correctly to match up the pattern.
This is why it's always wise to add on an extra 5% to your carpet length and overall purchase. This makes provision for waste. Keep in mind that the larger the pattern, the more waste you're likely to have.
Keep Your Carpet Padding Neat and Tidy
Carpet padding is yet another important factor in carpet installation and makes for a longer-wearing carpet overall. Make sure you lay your carpet padding neatly.
Keep the padding inside the perimeter created by the tack strips- don't lay padding over them! If the padding overlaps the tack strips, this will leave behind obvious lumps under the edge of your carpet, and that's not a good look.
Don't be tempted to go for cheap padding either. Higher quality padding makes for a longer-lasting carpet.
Don't Forget About Pile Direction
If there was a golden rule in carpeting, it would be the importance of pile direction. If your carpet has a pattern, pay careful attention to patching up the patterns between the adjoining pieces.
However, non-patterned carpets can be a little trickier, and this is where pile direction comes into play.
Look for the direction your carpet pile in a strong light and make sure to keep pile direction consistent between pieces of carpet. Carpet pile can be difficult to detect so it's always best to do your installation in good lighting.
Looking For More Home DIY Advice?
Check out the living and home and garden sections of this website for all the inspiration you need for home DIY projects. We offer advice on subjects ranging from tips on how to install a carpet to ridiculously simple holiday decor ideas!
Alternatively, take a gander and explore for more on local news, sports, real estate, business, and travel. Whatever your fancy, our website offers something for everyone.