Tips To Help on How to Make a Wooden Birdhouse — Building a wooden bird house can be an enjoyable experience to say the least. The one bird house we have looks great in our backyard garden area and I'm sure a few more bird houses around the property would look even better.
" We love having them attract more and more beautiful birds to our yard. "
Tips To Help on How to Make a Wooden Birdhouse
I should tell you that there are a few things you will need to keep in mind if your going to build your first wooden birdhouse so you can help to keep your feathered friends safe and cozy.
Finding What Materials on How to Make a Wooden Birdhouse
The first step in an important building project is to first decide upon the material you'll use to construct your bird house. There are a lot of materials one could use, although some will be better than others of course.
Making a birdhouse from wood is the product used most often as it's easy to access and easy to work with and can last for years and years. Unlike some materials you could use wood won't heat up the bird house and cook your new friends.
" In all my years of seeing bird houses being used by far the majority were wooden birdhouses. "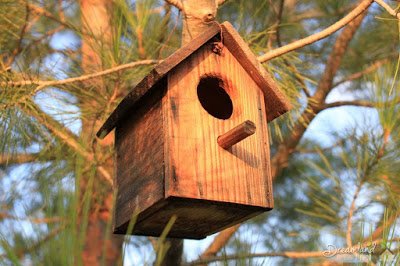 When you build your wooden birdhouse you don't want it rotting away as it's going to be in out in the weather for years to come so it's best to used wood that can take it such as redwood, cedar, or a good quality plywood.
Of course if you decide upon plywood for your wooden birdhouse you'll need to paint it to keep the environment out of the wood. You really only need to paint the outside of your birdhouse.
Painting Your Wooden Bird Houses (How to Paint a Wooden Birdhouse)
I mentioned that you will only need to paint the outside of your bird house should you choose a less wood or plywood but be sure you only paint the outside of the birdhouse. This will help to keep any fumes and chemicals away from any birds indoors, especially their chicks.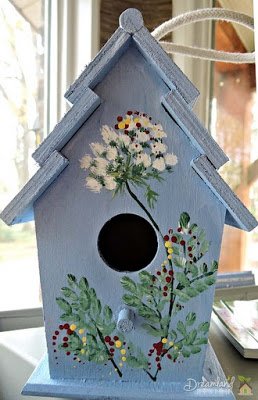 I feel I should add that you never use lead based paints, inside or outside or you'll have some loopy birds. You don't want birds pecking and possibly eating any part of your wooden birdhouse, if it's been painted with lead based paint.
We found a couple of wooden birdhouses in the garage and one was stuck to an old rotting tree truck. They had seen better days but I think if I were to take the time to paint them they might just last a few more years.
Colour Choices For Your Wooden Birdhouse
The colour you choose for your wooden birdhouse may be important to the type of bird you are attracting. Example: Colours like tans, grays, or repetitive greens or blues, will most likely attract cavity nesting birds. This is mostly because these colours are less visible to predators.
Where To Place Your Wooden Birdhouses
Where to place your new bird house is worth thinking about ahead of time as you want to be able to see your wooden birdhouse and residence but you also want to keep them safe and feeling secure from predators.
We have a prominent place in our yard for one of our wooden birdhouses. It's on a tall pole that's the center pole for a trellis behind one of our raised bed gardens. I can see it right from my work from home office. It's on a pole that is well secured into the ground and won't be knocked over unless you hit it with a truck.
We have some wooden birdhouses that are under trees, yet they still get the morning sun to warm up their home but shade so they don't get over heated. We also try to place the entrance/exit where it won't be blasted with prevailing winds.
If you have a love for birds like we do and desire more birds in your yard then building a few attractive wooden birdhouses with this Tips To Help on How to Make a Wooden Birdhouse is a great start.
Our trellis topped wooden birdhouse is a highlight in our backyard garden and I think it brings a definite character to our yard. Oh, and the birds seem to love and use it every year.