You don't have to break the bank and get a full bedroom renovation to spruce up space and give it an entirely new look. Adding a unique new headboard can bring an entire room together and give you a theme to work with.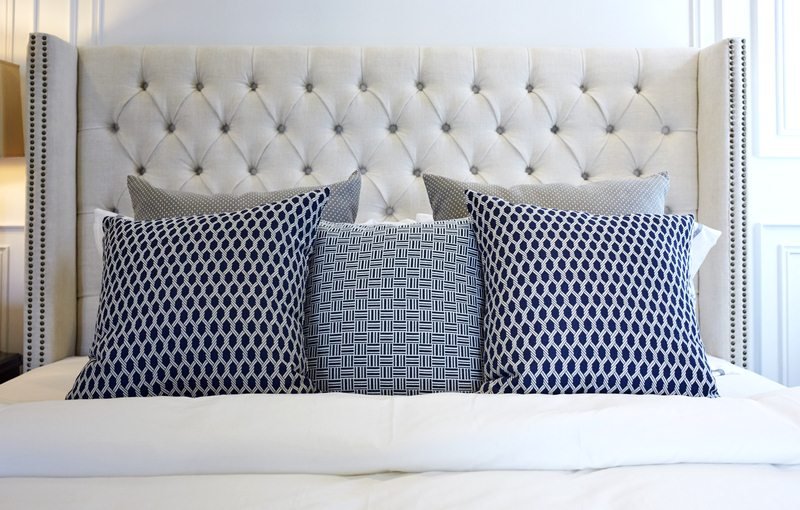 How to Make a Headboard – 10 Unique DIY Ideas
Check out these ten DIY headboard ideas that are easy and economical to create and will help you fashion the bedroom oasis you've always dreamed of.
Let's get started!
---
Read Also:
---
See the Light
Curtain rod, sheer curtains, string lights can create a look that's romantic, chic, and easy on the eyes and pocketbook. All you need is a few DIY tools, some screws to secure the curtain rod on the wall above the bed. Hang the sheer curtains and string lights from the rod.
You could also create a sheer curtain
Crates Bookcase Headboard
Wooden crates can easily be used to create shelving and make a stylish headboard that is functional as well. Screw, nail or glue to crates together to make a solid headboard shelving unit.
For a different look, you could have them facing the side and stack them in various formations to build various room styles.
Fabric Board and Buttons
Staple, hot glue or use large upholstery buttons to fasten the fabric to a board. This gives you the option to add color, design, and patterns to pull the room together.
If you prefer you could always use wallpaper or paint on pressed board. This would make it easy to change if you decide to change the look in the future.
Chalkboard Paint
Chalkboard paint has become quite popular for children's rooms but why not add a whimsical feeling to your room…and give yourself someplace to write down those middle of the night inspirational thoughts you always forget by morning.
You could also paint the entire wall in chalkboard paint and then draw on your headboard. This means you can have a different design or color every day.
If you prefer white to black you can also do this with whiteboard paint. This allows a much more colorful and bright design though you may end up with whiteboard marker on your sheets, blankets, and pillows as you make your bed.
If you prefer not to see the writing on the wall then you can use any paint or wallpaper outline right on the wall. There are decals and removable wallpaper you could use which will allow you to easily change your room around without painting the entire wall.
Pallets and Window Frames
A great bedroom look can be designed using the character and rustic feel of wooden pallets or window frames as a headboard.
Pallets are a DIYer's dream material because you can create hundreds of projects from them. You can easily use pallets to create a bed frame and headboard that are solid and attached while giving your bed some height.
Add lights to the frame or build storage space using a few pallets stacked or having a combination of pallets and frames to build a look you love.
Large window frames can be used with or without plastic or plexiglass in place of glass. Pictures can be decoupaged onto the frame or your favorite colored chalk paint can be used to add personality.
An Old Door
Old doors have a lot of character and are the right size to lay on their side for the perfect headboard. A white, grey or distressed paint can help you build a great bedroom look.
A barn door can give you a higher and more impressive look. You can make the barn door look from fresh lumber if you'd rather not recycle an old one.
Pool Noodle Headboard
If you want a fun and flexible headboard for the kid's room or to add some fun color and great shapes to your teen room makeover try some pool noodles fastened together. You can mix colors or just pick your favorites.
They can be used lengthwise or stood up to create various looks. Even put a wire through the center and then use your imagination to form any shape you want.
This headboard can be done for about $20 and you can make pool noodle furniture to go with it if you want the whole room
Album Covers, Pictures or Books
One excellent way to upcycle old album covers, pictures, calendar photos or books is to create a headboard backdrop. Staple them to pressed wood, decoupage them or even shellac them for a more durable and solid structure.
You can do this on plywood and build an entire frame that is attached. A book headboard can memorialize your favorite books and add a unique and beautiful centerpiece to your room.
If you have a young book worm in your life they may fall in love with this idea. You could cover one with their favorite comic books, baby books you read together or use books or albums that have significance in your life as a way to surround your kids with your love of books.
Couch Cushion Headboard
Add some padding and give yourself a comfortable headboard to lean up against while eating breakfast in bed with some couch or chair cushions. They can be fastened with leather or fabric straps or velcro.
This gives you the advantage of being able to wash them and even change the cover so that the entire look of the headboard changes.
If your bedroom is your favorite place to be and you love your bed so much that friends and family could call you The Mattress Nerd then this is definitely the headboard for you.
Bamboo Headboard
If you want to add some positive energy to your boudoir then perhaps you'd like to make a bamboo headboard and Fen Shui your way to a better day.
Many home stores and plant or garden centers sell bamboo or if you're really ambitious and patient waiting for it to grow you can always grow your own lucky bamboo.
Start Your Room Makeover with a DIY Headboard
There are tons of unique DIY headboard ideas that can give your room a whole new look and feel.
For more great DIY tips on home improvement projects, gardening or creative design ideas check out our site often.