How to Make more Counter Space in a Small Kitchen — Ideas on how to make more room in the kitchen can range from elaborate to simple. Learn some ideas including, a minor remodel, cabinet organizers, and decluttering the kitchen space (declutter kitchen counter).
[clickToTweet tweet="Making more room in kitchen cabinets, and de-cluttering countertop tips depending upon the finances available." quote="Ideas for converting the kitchen area, making more room in kitchen cabinets, and de-cluttering countertop tips depending upon the finances available for the project." theme="style1″]
How to Make more Counter Space in a Small Kitchen: Analyze the Kitchen Space and Need
How to make more counter space in a small kitchen first requires an analysis of the space available and the money available. In other words, making more space could be a simple project or an elaborate one.
Begin by examining the space. How did it look when you first moved in? Did it seem open and usable at the time? If so, what has caused the change? Is there countertop clutter, or too much stuff in the cabinets, which is making the room feel cramped? Are there not enough cupboards or too many?
Next, consider functionality. The kitchen is the cooking area, and oftentimes the family meeting area, so you should be able to move freely in the area while at the same time, serving family members and guests.
Last, consider the finances available. Even a minor remodel could cost the upward of $20,000.
The Overhaul: How to Make more Counter Space in a Small Kitchen
These are tips for someone who has decided that he or she has the money to invest in changing the kitchen space.
Measure the available space and consider if more or less space is needed. Sometimes, people think more cabinets are needed, when actually taking one out may be the better solution to create the look of more space and to add functionality to the kitchen. For example, instead of another cabinet, a kitchen cart or butcher block table with wicker baskets may be the better solution.
Also, replacing cabinet doors with glass or removing them completely will also create the illusion of more space.
Built in appliances underneath countertops are also great space savers. They will need to be measured prior to installation to make sure you have the width available. A flat, built-in stove, for example, will give the illusion of more space because it blends in with the countertop. A built in dishwasher is far less intrusive on space than a portable. Even better is the built in dishwasher with drawers. For a total remodel, refrigerators may also be built in. Further innovations in the kitchen are, built in small appliances, such as coffee makers (they are built into the wall), built in blenders and so on.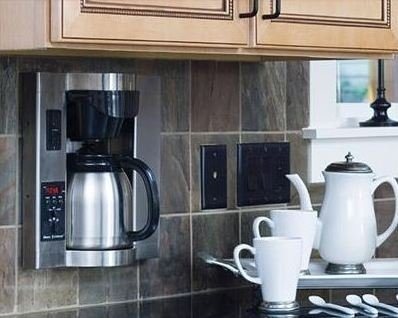 Inside the Cabinets: How to Make more Counter Space in a Small Kitchen
Evaluate the situation inside of the cabinets. Too many pots and pans, cups, plates and so on will reduce space. On an everyday basis, most families could suffice with a complete set of pots and pans or dinnerware (maybe two with a lot of children), but have accumulated many more. Keep extra pots and pans in a storage bin for parties and holiday meals.
After you again have determined the need, there are also great space savers to invest in, such as small spice racks or Lazy Susans. Pot and pan racks beautifully displayed from a ceiling or wall will save space, or pot and pan organizers inside of a cabinet will help.
Must Read:
Decreasing Clutter (Declutter Kitchen Counter)
Again, the first step is to evaluate the area.
Have the latest kitchen gadget? Is it in use or collecting dust? The simplest way to make more room in the kitchen is to get rid of clutter. Countertops should be clear of extras. Unused gadgets should be moved into the garage sale or donation bin. If you have not used the gadget in a month, chances are you will not use it in six months. Only keep on the counter what is used frequently, everything else goes into storage or donation.
All food should be stored in the pantry or cabinet, with the exception of a bowl or basket of fresh fruit. Did you know that food on the countertop may make you eat more?
Collect mail on the countertop? Consider adding a wall mounted wooden mail organizer in the kitchen area or making it a point to put mail in the office where monthly bills are paid.
Conclusion on How to Make more Counter Space in a Small Kitchen
In conclusion on how to make more counter space in a small kitchen, making more room in the kitchen is a challenge for many people. Begin by evaluating the space and the funds available. Even without a lot of money, you can still create more room by first thinking about the functionality of the room and declutter kitchen counter and cabinets
Reference