Are you looking for a fun and engaging way to relax your brain and enhance your logical thinking skills? Then the classic Ludo board game is the perfect choice for all time.
With its simple yet strategic gameplay, Ludo has been a favorite pastime for generations. This timeless game not only provides entertainment but also offers numerous cognitive benefits.
Playing Ludo requires players to analyze the game board, strategize their moves, and make calculated decisions.
This process engages the brain, stimulating critical thinking and logical reasoning.
As you navigate your game pieces across the board, you'll need to anticipate your opponent's moves and adapt your strategy accordingly.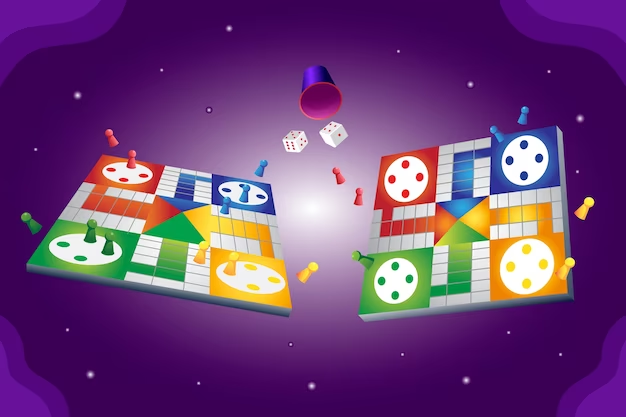 This not only sharpens your analytical skills but also enhances your ability to think ahead and plan your actions.
Moreover, Ludo provides a break from the digital screens and technology-dominated world we live in. It offers a tangible and social gaming experience that brings people together.
Whether you're playing with family, friends, or even new acquaintances, Ludo creates opportunities for laughter, friendly competition, and meaningful connections.
So, if you're seeking a mentally stimulating yet enjoyable activity, dust off that Ludo board and gather your loved ones. Engage in this exciting game that not only offers relaxation but also boosts your brainpower.
Get ready to roll the dice, strategize your moves, and experience the joys of Ludo while improving your logical thinking skills.
The Origins of Ludo
Ludo, also known as "Pachisi," originated in India centuries ago. It was initially played by Indian royalty and was often referred to as the "Game of Kings." Over time, Ludo gained popularity and spread across the globe, becoming a beloved pastime for millions of people.
How to Play Ludo
To play Ludo, follow these steps:
1. Setup:
Gather 2 to 4 players and choose a designated player to go first.
Each player selects a color and places their four tokens in the starting area of their respective color. The starting area is the corner of the board with the same color as the player's tokens.
2. Objective:
The goal is to move all your tokens from the starting point to the center of the board, called the home area before the other players do.
3. Gameplay:
Players take turns in a clockwise direction, starting with the designated first player.
On your turn, roll a six-sided die. The number rolled determines how many spaces you can move one of your tokens.
To enter the game, you must roll a 6. If you do, place one of your tokens on the starting point.
Tokens can only move in a clockwise direction along the outer track, the inner track, and the home stretch for each player's color.
Tokens cannot pass or land on other tokens of the same color. However, they can capture tokens of other players by landing on them, sending those captured tokens back to their respective starting areas.
If you roll a 6, you can roll the dice again and take another turn. You can keep rolling until you don't roll a 6.
If you cannot move any of your tokens, your turn ends, and it passes to the next player.
4. Entering the Home Area:
Once one of your tokens reaches your home stretch, you must roll the exact number needed to enter the home area and move the token to an empty space in the home area.
If you roll a higher number than needed, you must move another token if possible. If none of your tokens can move, your turn ends.
5. Winning:
The first player to move all four of their tokens into the home area wins the game.
The Benefits of Playing Ludo
1. Mental Stimulation and Logical Thinking
Ludo requires players to think strategically and make calculated moves.
You need to plan your moves in advance, considering the positions of your opponent's tokens and the optimal paths to reach the center.
This constant mental engagement helps sharpen your logical thinking skills and enhances your ability to make decisions under pressure.
---
Read Also :
---
2. Social Interaction and Bonding
Ludo is a multiplayer game that encourages social interaction and bonding.
Whether you play with your family, friends, or colleagues, Ludo provides an excellent opportunity to spend quality time together.
It fosters healthy competition, laughter, and friendly banter, making it a perfect choice for gatherings and social events.
3. Stress Relief and Relaxation
In today's fast-paced world, finding ways to relax and unwind is essential for our overall well-being.
Playing Ludo offers a break from daily stressors and allows you to focus on a fun and enjoyable activity.
It helps divert your attention from worries and promotes relaxation, helping you recharge your mind and body.
4. Patience and Resilience
Ludo is a game that teaches patience and resilience. Sometimes, despite your best efforts, luck may not be on your side, and your opponents may block your moves.
In such situations, you learn to accept setbacks gracefully, adapt your strategy, and persevere until you find a way to overcome obstacles.
These qualities translate into real-life situations, helping you develop a resilient mindset.
5. Cognitive Skills Development
Playing Ludo stimulates various cognitive skills, including critical thinking, memory, and concentration.
As you analyze the board, plan your moves, and remember your opponents' actions, you exercise your brain, keeping it active and agile.
These cognitive benefits extend to other areas of life, such as problem-solving and decision-making.
Tips to Improve Your Ludo Skills
If you're looking to enhance your Ludo skills, here are a few tips to help you become a better player:
Study the Board: Take the time to analyze the board and identify the most advantageous paths. Look for shortcuts and potential traps set by your opponents.
Plan Ahead: Anticipate your opponents' moves and plan your strategy accordingly. Consider different scenarios and have backup plans in case things don't go as expected.
Master the Dice: Develop a good understanding of probabilities and learn how to maximize your dice rolls. Be strategic in choosing which token to move based on the number you roll.
Observe Your Opponents: Pay attention to your opponent's playing styles and adapt your strategy accordingly. Identify their strengths and weaknesses and use them to your advantage.
Stay Calm and Patient: Ludo can sometimes be a game of luck, and things may not always go your way. Stay calm, be patient, and maintain a positive attitude even when facing setbacks.
Conclusion
Ludo is much more than just a game. It is a fantastic tool for relaxation, brain stimulation, and honing your logical thinking skills.
By playing Ludo, you not only enjoy a fun and engaging activity but also reap the benefits of enhanced cognitive abilities, social interaction, and stress relief.
So gather your friends and family, roll the dice, and embark on a journey of strategic moves and laughter-filled moments. Play Ludo and let your brain thrive!