With the technology boom of the last decade, there has been a drastic increase in companies designing and building ultra-unique office spaces to attract employees and build their brand.
Company culture is so intertwined with company products, that the public-facing brand is just as important as the internal brand.
What a company stands for, how their executives dress, and even office design differ from company to company more than ever – and sometimes it's the key to even building a profitable company.
Why Do Companies Build Unique Workplaces?
Arguably the trail breaker to the captivating office concept was Google – who have been doing it for almost 2 decades now – but that's quickly changing.
Virtually every fortune 500 company has a unique workplace – companies are now treating workplaces as investments, not simply a congregation of employees that carry out their jobs.
The incentive for companies to build unique, modern offices is multi-fold. It helps these corporations attract and retain key talent because after all, a company is only as good as the sum of its employees.
In fact, the majority of employees favor perks and amenities such as work-life balance, unique and welcoming workplaces over just salary alone, perhaps life isn't all about money after all?
Another big draw for a unique office is the marketing and statement that "you've arrived". Look, building ultra-modern office costs a lot of money, in both construction and design fees.
Often the furnishings need to be specially designed and produced at scale to fill out the office.
Unless a company has raised significant venture money or has a rock-solid revenue stream, they are simply unable to afford an incredible office.  It's a small and exclusive club of the ultra-elite.
Principles and Trends of Interior Design
Although every office is generally unique to each company due to the design and builds process, there are several overlaps.  The common trends we see are:
---
Read Also:
---
Minimalism
A recurring theme in all new office designs and builds is generally clean, smooth lines with ample, but hidden storage. Also, staircases are one of the best options for your interior that make your place more attractive.
As we move into a digital age, more information is stored using computers, and any loose papers laying around are not an attractive look.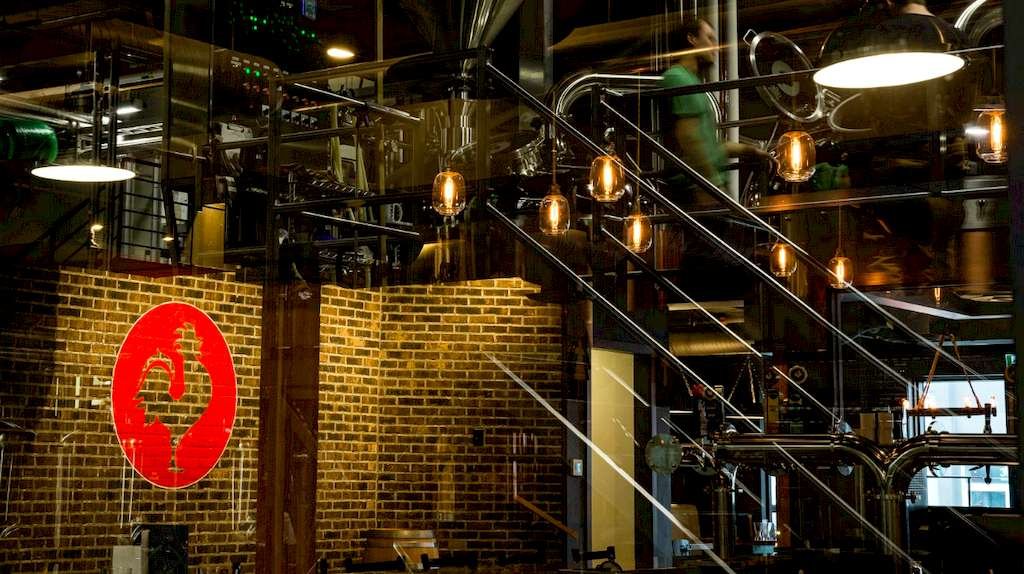 Vibrant Colors
Materials vary by location but generally include woods and plastics, generally, each surface is a consistent color.
Any color contrasting is done outside of the existing surface or shape meridian.
Vibrant yet contrasting colors often come together seamlessly, giving any new build a lively pop of color and youthfulness, while still remaining professional.
Open Concept
Every new office design and build follows open concept principles. This includes a general workplace, where employees generally share large tablespaces.
Executive or management offices generally have clear and or smoked glass, and boardrooms once secretly tucked in one corner of the office are coming out as a prominent feature room – usually with completely clear glass walls.
Office board rooms are often situated in close proximity to the entrance or other high traffic areas for easy viewing by visitors, clients, and employees.
In case you are searching for one then opt for Glass walls and doors by Safeguard Glass which not only creates an open feeling but also gives an impression of a larger space.
Major Metropolitan Cores
New office design and builds are expensive, lengthy, and long-term projects.
Especially with the millennial workforce, switching jobs on average every 4.6 years, it's no longer realistic for successful corporations to set up in their hometown.
These corporations must move to a major metropolitan hub where there is ample talent to further grow the businesses.
Almost all major design and build corporations in North America are located in New York, Toronto, San Francisco, Los Angeles, Boston, Seattle, or Vancouver, with Austin Texas competitively bringing up the rear.
Building materials and designs vary by metropolitan core, with the pacific northwest incorporating an abundance of woods and stones, often blended seamlessly.
In the southern USA, a growing trend is more clays and bricks, generally, these areas have a significant number of sunnier days than other regions, and when combined with the generally warmer climate much more outdoor spaces are featured in builds.
East coast builds such as New York and Toronto, some of the oldest cities in North America frequently stay incorporated with a local vintage yet new architecture and styling.
It's common to see exposed brick, industrial accents, and amber lighting.
General Office Building Process
Generally, all new office design-build projects start with an interior designer and architectural planner.
These two professionals, or a team of professionals (if it's a big project) will sit down with your executive team to truly understand your business needs and goals.
The majority of the office building process is actually designed. After a series of revisions and tweaks, a construction contractor will be solicited and production will begin.
You can expect a 20,000 sq ft office to take approximately 1-2 years to complete end to end depending on project complexity.