Home improvement searches have increased by 50% year-over-year. In light of COVID, more people are looking for ways to spruce up their homes. That includes creating a stunning, thriving garden.
With the winter months behind us, it's important to prepare your garden for the spring season! Not sure where to start? Here are the four tips you need when gardening for spring.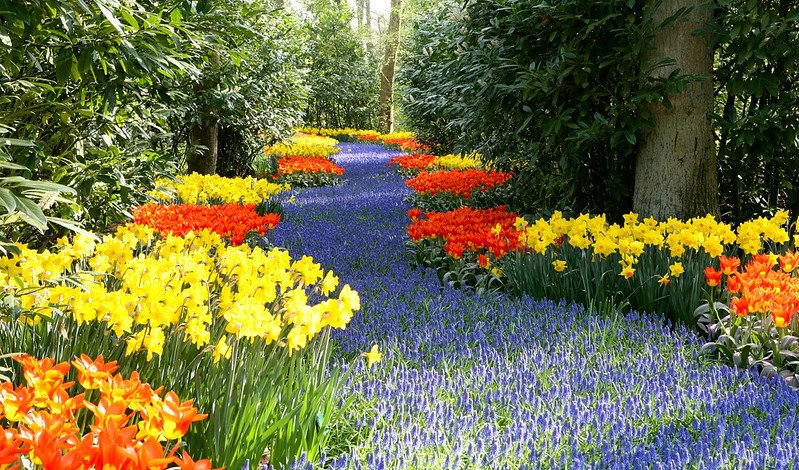 These spring gardening tips will help your garden survive and thrive! You can grow delicious tomatoes, vibrant flowers, and more.
Ready to put your green thumb to use? Get started with these four easy tips today!
1. Gather Your Tools
American gardeners spent about $47.8 million on lawn and garden retail in a single year. Before you prepare your garden for spring, have a budget in mind.
Once you establish your budget, you can start shopping!
First, make sure your current gardening tools are in good repair. Without the right tools in hand, you might struggle to remain productive. You could waste valuable time trying to get your garden in spring-shape!
Consider grabbing:
Clearing garden tools to trim shoots and stems, cut vines, severing roots, and saw off branches
A digging shovel for planting larger items
A flat-blade ending spade for cutting roots, slicing turf, and scraping soil or mulch away
Loppers for cutting branches
Pruners for deadheading flowers or cutting pliable stems and twigs
A pruning saw for cutting through woody stems
A Hori Hori digging tool for planting bulbs, severing roots, and cutting sod
Hose and sprayer for watering
A garden rake for cultivating and preparing the soil
Wheelbarrow for carrying firewood, soil, compost, and other items
A leaf rake for collecting garden debris
A digging fork for loosening compacted soil or incorporating compost into garden beds
Replace anything that's broken. Consider a brand new pair of gardening gloves to keep your hands safe, too.
Once you determine what you're planting, take the time to order your seeds. Do you want to start with seeds or bedding plants? Consider visiting your local nursery or checking online catalogs.
Don't forget to purchase new planting starting pots and trays, too. If you plan on starting from seeds, the seeds might not survive. It helps to start from smaller pots before translating them outdoors.
Using starting pots is ideal if you want petunias or tomatoes in your garden.
Consider purchasing fertilizers and pesticides, too. You might need to decide between natural or chemical options. You could also need weed barrier fabric and plant ties.
Having these items on-hand will save you time in the long-run. You can focus on your spring landscaping instead of making multiple trips for supplies.
2. Check the Grow Zones
Once you gather everything you need, take a look at your garden. Have you chosen the best place for your plants?
For a vegetable garden, you'll need to make sure the plot is in a sunny area. For a flower garden that wraps around your home, look at the sunlight. How much light will each area receive?
The sunlight around your home can help you determine which plants to choose.
You'll need to consider the growth zones, too. Grow zone charts show you the exact location of each zone. You'll want to make sure the plants you choose for your garden are ideal for your area.
---
Read Also:
---
3. Plan What to Plant
Before you get in the dirt, devise a plan for your garden. What do you want to plant this year? Don't forget to keep the available sunlight in mind.
You'll want to choose plants that are ideal for the season and work well together.
Some plants work together to resist pests. Others can help you avoid needing pesticides in the future.
Put your low-growers in the front of the garden and the taller plants in the back.
Consider planting flowering climbers that can cover walls or fences. You can turn a barren surface into a stunning mural. For example, star jasmine has white blossoms that are ideal for sunny areas.
You can place your white jasmine over a trellis or along a fence.
You can add climbing hydrangea to your garden, too. These flowers thrive in shady, north-facing walls.
Do you want to grow potatoes this year? Consider starting them in a planter bag or container. Plant your tubers into a layer of peat-free compost. You'll need to add more as they grow.
Want to add some spice to your life? Consider a variety of chili plants. Chili plants are compact enough for window boxes. Look for plants you've never grown before, such as the Prairie Fire or Purple Tiger varieties.
Once you determine what you want to plant, create a diagram. A diagram will help guide you as you start working in your garden. Gardening for spring can get messy if you don't have a plan in mind.
You can either draw your diagram to scale or use a simple sketch to guide you.
Consider where you'll place your plants, as well as what you'll need in each area. For example, you might decide you need a raised garden bed. Label that within your plans.
Now that you know what you're planting this year, you can order your seeds.
4. Maintain Your Garden
You'll also need a plan for your spring landscaping maintenance this year. First, consider hiring full-service lawn care. They can help spruce up your yard.
Then, add a blanket of mulch to your plant beds. Mulch can suppress weeds. They'll lock in moisture and suppress soil structure, too.
Remove any weeds from your garden. Then, add peat-free compost. Add a top layer of bark chips to foil weeds.
Do you have a pumpkin patch in the works? Feed the soil. Add vegetable peelings, corrugated cardboard, and eggshells into the mix.
Have a plan for dealing with slugs and other pests, too.
Gardening for Spring: 4 Essential Tips for a Thriving Garden
Ready to enjoy your sunning garden this spring? Give these five gardenings for spring tips a try. With these landscaping trends, you can enjoy the garden of your dreams!
Now you can keep your garden thriving all year-round.
Searching for more helpful tips and tricks? We have plenty!
Explore our latest articles today for the advice you need to succeed.