Installing a basement can boost the value of your property. On average, a finished basement will give you a return on investment (ROI) of 75%.
This means that if you spend USD$1,000 on basement improvements, the value of your property will increase by USD$750. Spend USD$20,000 to upgrade your basement, and your property value increases by about USD$15,000.
The numbers mentioned above can be tempting enough for a homeowner to want to update their basements.
But with the number of things, you can do in your basement, do you know which design idea to follow? Where will you draw inspiration for your basement? Here are five design ideas that are sure to inspire you as you're upgrading your basement:
1. Movie Room
Watching movies is a great stress-reliever. Lounging on a comfortable sofa as you watch your favorite movie will surely refresh your mind and body.
Instead of watching movies in your living area, why not turn your basement into a movie room? This design idea is great as it allows you to maximize the space in your basement and prevent disrupting activities in your living room.
This can be beneficial, especially if every member of the family loves to welcome guests often.
Depending on the existing condition of your basement, you might have to spend resources for a basement cleanout before adding appliances and furniture.
A spotless basement turns into a blank canvass, making it easier for you to determine where to place items you want to add to the room.
2. Playroom
Several studies show that play is essential in a child's development as it allows them to learn new skills, develop self-confidence, build creativity, and improve literacy. When done with siblings or peers, play serves as an avenue for your children to manage their behaviors and emotions.
If your property doesn't have sufficient outdoor space, work on turning your basement into a child's playroom.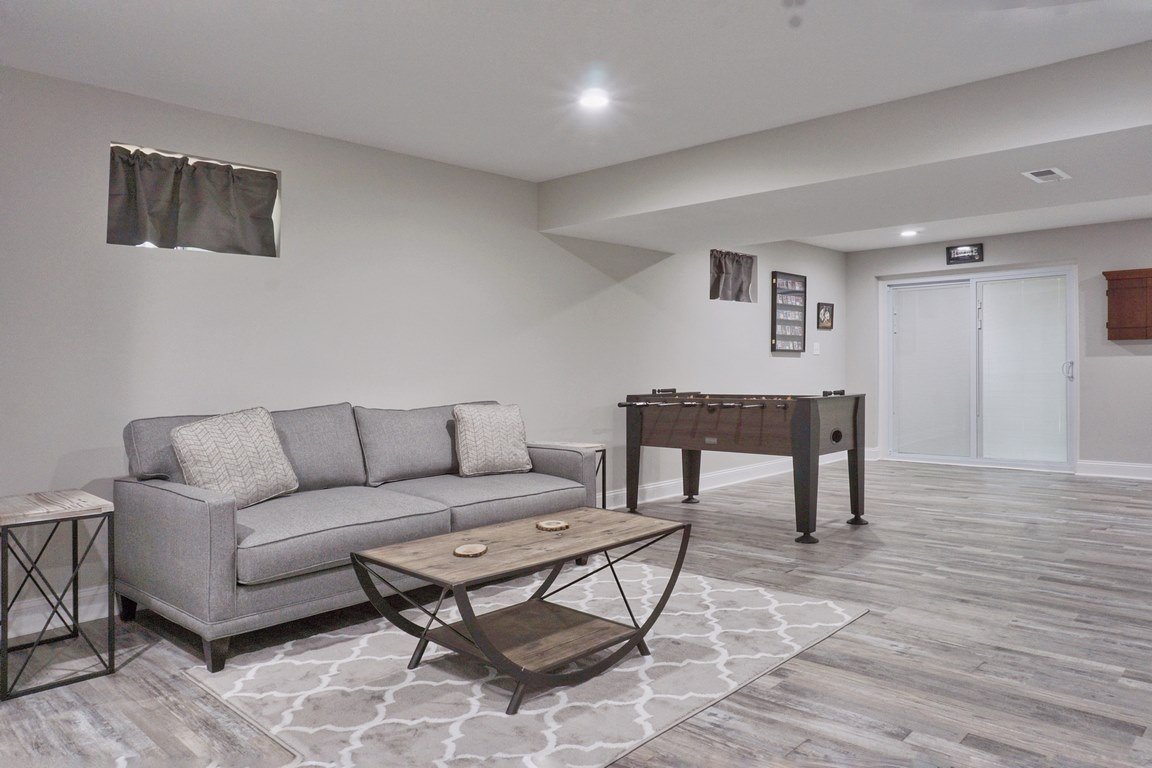 Aside from the mentioned benefits, having a playroom inside your home will put your mind at ease as your children are safe from the dangers outside.
You can incorporate different playroom ideas for your basement. You can paint the walls in bright, bold colors such as red and orange to keep your children's energy up or add cushions to the floor to create a safe and comfortable environment for your kids to crawl around.
---
Read Also:
---
3. Studio Apartment
Do your guests love to stay over for a couple of days or weeks? Do you want to provide a more comfortable and spacious area for them? If you answered 'yes' to these questions, turn your basement into a studio apartment.
Converting your basement into a studio apartment is actually easy. In general, the process will begin by creating defined living spaces.
This means you should determine where the living and dining areas will be located, as well as the bedroom. Refrain from installing walls if you want to make the space look more modern and feel more spacious.
After defining different living spaces, you can proceed by adding heating and cooling systems and installing electrical and plumbing systems. The last step would be insulating the ceiling (if your basement is still unfinished), floors, and walls.
4. Game Room
Families have different bonding activities. While some love to engage in outdoor activities together, namely hiking and camping, others prefer spending time indoors. If your family belongs to the latter, consider converting your basement into a family game room. Also, if you want to maximize the space, here are basement built-ins for reference.
Having a game room is an excellent way to bond and make happy memories with your family, especially if kids and seniors are living with you.
Moreover, since the basement will be solely utilized for different sorts of games, you don't have to worry about keeping everything in its place as you may when you play in the living room. This will significantly reduce clutter in your home.
5. Home Office
Working from home has plenty of benefits, but not having a designated space to work can make the setup a bit challenging.
It'll be difficult for you to be productive every day if you're working in an environment exposed to loud TV noises and conversations between family members.
Accomplish as many goals as possible even when working at home by using your basement as your home office. Your basement is a secluded space located underneath your home, which means working there will be a breeze.
Contrary to popular belief, you don't need to break the bank just to use your basement as a home office. As long as you have a stable internet connection, a functioning computer, and a comfortable seat and table, you're good to go.
Work With Professionals
Regardless of the design, you want to imitate, make sure you're not taking the project alone.
Hire experienced and licensed contractors as they have the skills to ensure that the design you've envisioned for your basement becomes a reality.
Working with them will also give you peace of mind knowing that your attempts to improve your basement will turn into a success!