The garden should be a place of beauty and relaxation. It should be your outdoor haven from the modern world, bursting with color and greenery. However, for many, it can be just the opposite, striking fear into the hearts of occupants (and neighbors) alike.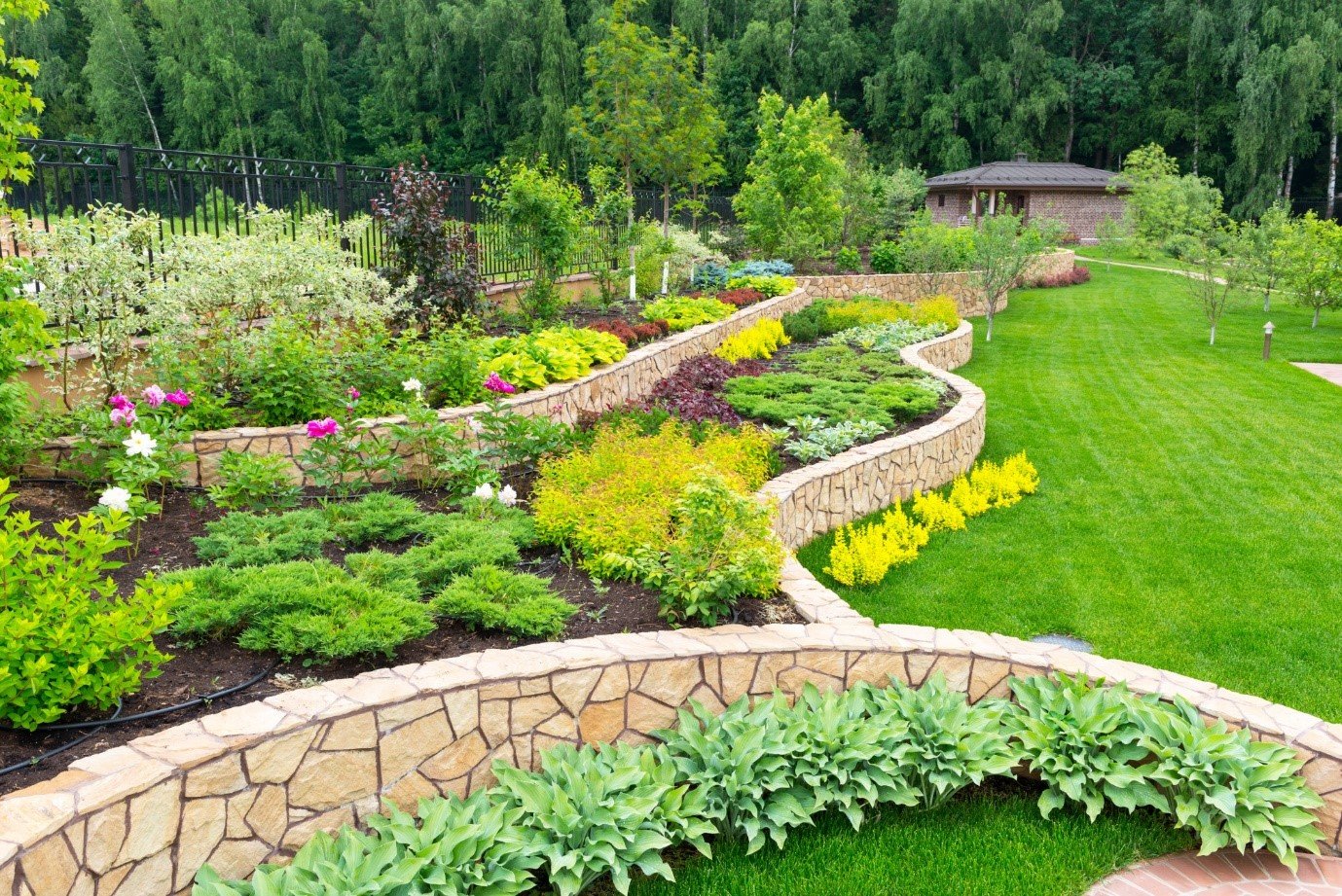 Gardening does not have to be that way and it can be easy as well as fun. Below, we give you 7 landscaping projects that you can try in your backyard on a minimal budget.
---
Read Also:
---
1. Forge a New Path
Adding or redoing a path is a very easy and cheap DIY project. It can even be done with anyone who has very little DIY or landscaping experience, and all you will need is a minimum of tools.
An easy project is to try creating a path from salvaged materials, or anything you can find for free. You could try using old floorboards or wood from pallets to lay as a funky, natural-looking garden path. Simply dig a small trench, level off the ground, and place it in the salvaged wood.
You may wish to treat them before you lay them, or you can go natural and just replace them as they rot. Another option is to layer sand under to even out the pathway, but this is also optional.
If you want to go further, purchase flagstone or gravel for your path. The principle remains the same. Dig a trench around 3-4 inches, level it, then place your flagstone or gravel on top.
Paths always look better when they curve as opposed to turning at right angles. You should always allow at least a three feet width, to make the path big enough for people to walk along with it without falling off. Areas with lots of rainfall should opt for heavier woods and stones.
2. Create Borders and Edging
Borders and edging can add real definition to your garden. They can be used to hold back three-lined areas, plant beds, or frame pathways. They are also easy to fit, requiring very little effort even in long, stretching sections.
Wait for a calm day with little wind before you begin the job. Lay out a length of the hose where you would want the order to be. Sprinkle flour on either side so you can mark the area you want to install the border in.
Now go along the marked area and use a spade to create an indentation where you want the border to be. Lay it in, then tap down gently so it embeds. You should have a sturdy, beautiful edge.
One very crafty way to build a natural, rustic-looking border is to use small bamboo posts instead of a traditional border. Set them around 15 inches apart and weave in canes that would find at the garden center. You will have a professional-looking border that will allow flowers and plants to grow through, creating a natural edge.
3. Plant a Tree
Planting a tree is a great focal point for your garden. It is easy to do, and you can add several decorative features. You could even consider a fruit tree so that your labor will pay off with delicious produce further down the line.
Start by finding your ideal tree at a local garden center or farm. Check to see what conditions it prefers, if it suits your garden, find a spot. Dig a hole big enough to plant the tree, giving it room to grow and allowing the roots to spread. Then fill in the hole with soil.
Framing the tree is just as much fun as planting the tree itself. One idea is to add a ring of mulch to insulate it, retain moisture and prevent any weeds from attacking it. You can get this from a local store or hire a Bull Hog excavator mulching head to create your own.
You could also consider adding a masonry surround. Dig a trench, add a later of sand, then lay your bricks in your desired pattern. Once done, fill the interior of the surround with mulch to protect the tree.
4. Add Color
Color can instantly lift any garden, and the only thing holding you back is the type of plants that will grow in your soil. Check that the plants and flowers you want to grow are good for your climate, then get artistic. Select flowers with interesting colors and shapes to enhance your space.
Try to get a mix of perennial plants and seasonal ones. This will let your garden look lively and fresh all around. Combine them with some quirky and interesting garden furniture.
You do not just have to plant in designated flower beds either. Planting in the strangest of places can give a natural vibe to your garden. Place flowers at the foot of your mailbox or around a trashcan to brighten up even the dullest items.
If your garden suffers from drainage problems try planting on a berm. A berm is a sloping area of the garden, filled with plants and flowers. Not only do they look good, but they can also block out noise from the street and make the garden look larger than it is.
If you do not have space for a berm, consider installing raised flower beds. This will add different levels and interests to your yard. Each bed can be decorated with a mix of plants and flowers, or you may wish to arrange them in a pattern.
5. Build a Wall
Building a wall does not have to be a huge effort. In fact, small walls and barriers surrounding flower beads can look effective, especially as edges to raised flower beds and pathways. When creating a wall, unless you are a professional, it is best to go for a rustic look.
This can be done by using flagstones. You don't need any mortar, and it does not need to be neat and tidy to make it look good. All you need is a selection of stones that have a consistent thickness, be it sandstone, limestone, or shale.
Start by digging a trench as wide as your flagstones and a few inches deep. Stack smaller stones on the bottom, then layer the larger ones on top in a crisis cross pattern. Finally, fill the back of the wall with gravel.
This type of wall looks particularly good if you have larger, shady plants hanging over the top of it. Plant some large-leafed perennials just behind the flagstones. Shrubs will also work particularly well against one of these walls.
6. Get Wet
The sound of trickling water can be one of the most relaxing elements to add to a garden. Not only can it look great visually, but water can also invite a lot more wildlife into your garden to bathe and nest. Combine it with bird tables and feeders, and your garden will become a hive of activity.
Most DIY water features can be done with some tubing, a pump, and gravel. A very popular idea is to use two plant pots, one larger than the other. Start by drilling a hole in the bottom of both and feeding your tube through.
Place your pump in the bottom pot, then feed the tube up through the top pot. Begin to fill the bottom pot with an assortment of interesting stones or gravel, then place the top planter above and do the same. The water should feed through the top planter, tickling down and back into the bottom creating an interesting water feature.
You do not just have to do this with a planter. Any old containers will make interesting features including watering cans, old oil containers. The weirder and wackier the better.
7. Use Shrubs
Shrubs are an amazing tool to be used in your landscaping. They are hardy and can be used to hide a multitude of sins. Perennial shrubs can manage to do this all year long.
If you have any unsightly areas, maybe where grass refuses to grow or you have old tree stumps, then shield them from view using shrubbery. Place tall shrubs at the back, then smaller, flowering shrubs in front of the plants to draw attention away.
Shrubs can also add a lot of aromas to the garden. Plant lavender, lemongrass, and other strong-smelling shrubs at entrance points to the garden. People will be met with a mix of beautiful scents as they come onto your property.
There are a plethora of shrubs to choose from, and your choice will only be limited by the soil type in your garden. Boxwood, hydrangeas, and oleander are all tough plants that will grow in most conditions.
Landscaping Projects: Time to Get Gardening
Once you have your landscaping projects ready, get gardening! The beauty of gardening is that everything is reversible and will grow back over time. You really cannot make a mistake.
If you are looking for more gardening tips, come and visit our informative blog. We have many handy articles on how to get the best from your home and garden. Let us help you make the best of your property starting today!