A bedroom is a special room in a house that is intended for private purposes. This room contains beds and private things and is also mainly used for sleeping.
Another name for a bedroom is Bedchamber. In this place normally people also like to spend private moments with their loved ones.
Are you living in a small bedroom? Nevertheless, cramped quarters and bedrooms can be claustrophobic and unlivable.
Moreover, finding the best small bedroom ideas for designing a small bedroom can be a challenge, and a person might feel overwhelmed and frustrated.
But it is not impossible, though. If you plan in the right way, then you can also make your tiny room attractive.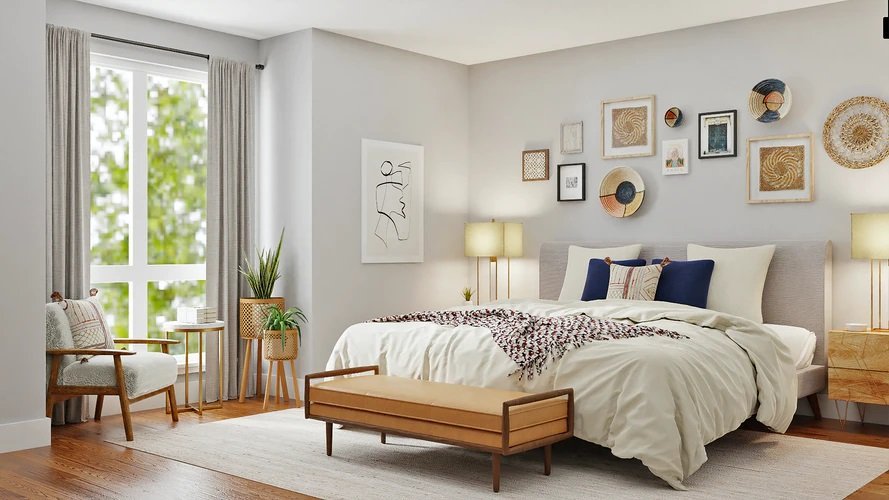 Furthermore, to help you decorate your small bedroom to look calming and attractive from a mess, 6 ways are provided.
This will further maximize the bedroom and can bring new life to your room and your house.
With the advancement of everything, several new things have come up that will help you to decorate your room without any hustle.
How to Decorate Small Bedrooms?
Are you ready to embrace your small bedroom spaces with a cozy touch? Below 6 tips are provided by which you can change your bedroom look.
Then, continue to read further to avail the tips and tricks to further maximize your bedroom with designs, details, styles, decors, including layout inspiration.
1. Opt for Strategic and Multi-Purpose Furniture
You should always opt for furniture that is strategic and meaningful. You do not want your room to be cramped with unnecessary things.
Strategic and multipurpose furniture can help a person have the bedroom of their dreams.
If you have multipurpose furniture, then you can use single furniture and can meet several purposes.
This will help you add up a few things in your room and save you from clumsiness. For instance, you can opt for built-in bookshelves to enjoy extra storage.
2. You can Opt for Arm or Hanging Light
Night lamps are highly recommended in a bedroom as when you will go dark; you might need a little ray of light to view necessary things at the necessary times.
In the vast market, you can find a variety of lights. In addition, you can opt for sconces as it does not consume any extra space and can be easily adjusted in the walls of your small bedroom.
You can also opt for hanging night lamps. These are the classiest lamps that you can ever imagine.
This also does not consume any additional space and can be hanged from everywhere.
You have to remember that you should not use too many lamps as they can look clumsy again, especially while treating with the small bedrooms.
3. Use All Available Space and add Windows
The biggest challenge a person can face while decorating a small bedroom is the surface pace.
You need to find space to stuff all your important things there. Your cal also opts for a window in your bedroom and can consider the windowsill as a place to keep your decors, lightings, and other essentials over there.
You can also opt for foldable tables as they can be a good option to save your space.
Ancient things can be space-consuming, but foldable chairs and tables can bring space to your room.
This can help you further clear the mess that you often create in your bedroom.
---
Read Also:
---
4. Choose Light Colors and customized Storage
Light colors are great options if you are planning to design your small rooms.
Light colors reflect more colors and provide a treat to the eyes as if you have a lot of space and a big room as well.
Light colors also provide a sense of calmness and peacefulness around your surroundings.
The lighter colors you will add to your room, the more simplicity you will add up, and furthermore, this will make your room tidy and clean.
Customized storage like a wall shelf or wall cupboard is also great to save your space.
You can store all your precious things in these without wasting a single area of your room. You can also customize drawers under your bed to save area and space.
5. Select Accents that add Color
Small bedrooms with light colors can be a little bit dull, so you can add up varieties of colors to save your room.
You can play with your own choosing and can add wall paintings, pictures that are colorful.
Blues, Yellows, grey are some beautiful colors that can change the whole look of your bedroom.
6. Try to be Simple and Shrink it Down
Simplicity should be your utmost concern while designing a small bedroom. Of course, you can shrink things up, like putting the bed in one corner.
However, try to layout the whole room in a simple manner. While designing the layout of the entire room, you should put things in a way that there remains space for walking, sitting, or performing other activities.
Conclusion
With the above tips and tricks, you can get your bedroom the way you always desired.
You should also consider things that are valuable to you to avoid any additional messy outcomes.