It is incredibly easy to be overwhelmed when it comes to choosing tile patterns for walls and floors. But then, you start looking at the main trending tile styles, and you just don't know where to start.
After all, it is completely different to see an image on a magazine or on a blog post and then try to picture it in your own floors and walls.
But we all urge to see what design experts have to say about tile patterns. Here are some of their opinions:
According to Sol Farahmand, President of Canadian Tile Pro, "The use of shapes, texture, and patterns are driving the current trends in tile now. For example, a fabric textured tile can give a soft warm feeling. Shapes such as hexagonal, diamond, fish scales, and raindrops are very popular tile designs in 2020. Another factor that is important to consider is depth and dimension which gives the tiled surface a high/low texture. Classics like 12″ x 24″ tiles and subway tiles remain popular in bathrooms and kitchens."
There has been a surge of unconventional tile shapes and layouts for 2020. Designing with different tile cuts in the same space is on the rise, and can make for stunning interiors!
With the wide variety of shapes available, like long planks, diamonds, and hexagons; the possibilities are endless.
As with any trend, some will have more staying power than others. If you choose to get more creative with your pattern, it's better to stay with natural or neutral colored materials for the longevity of the design.
While everyone seems to be pointing out the direction to depth, texture, and dimension, you should not forget about the basics – tile patterns.
So, with this in mind, we decided to share with you the top 4 tile patterns for walls and floors.
Top 4 Tile Patterns for Walls and Floors
---
Read Also:
---
1. The 45'er: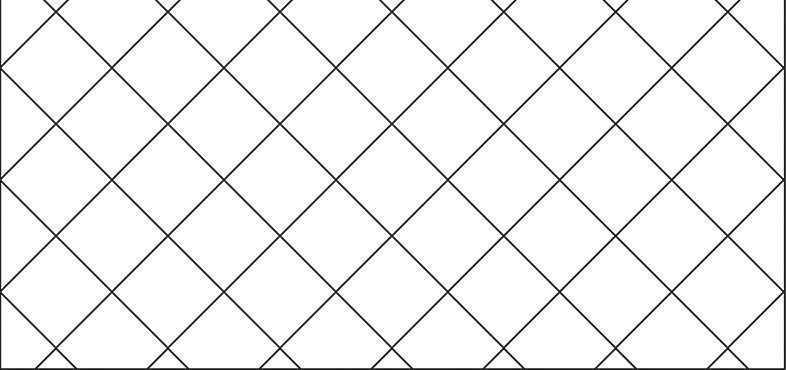 Also known as the diamond pattern, the 45'er is a very popular tile pattern that we have been seeing on both floors and walls.
Simply put, this is a diagonal tile pattern that uses square tiles that are laid on a 45-degree angle to create a diamond effect.
You may have already seen this pattern and it tends to look incredibly well and effective when you want to make smaller rooms appear larger.
It is commonly seen in bathrooms and kitchens and you can even use it with a border as a feature in a kitchen backsplash.
One of the things to keep in mind about this tile pattern is the fact that you will deal with extra thought and work when you're installing it. Besides, it is natural to have more wastes.
2. The Stacker:
There's no question that the stacker tile pattern is the most commonly used pattern. As you can imagine, it is also the easiest one to do. After all, the tiles only need to be laid side by side in a straight line as a way to give that overall even grid pattern.
When you are looking for a simpler floor option that doesn't act as a distraction to other objects that you have in the room, then the stacker pattern is perfect.
One of the things that you need to know about the stacker pattern is that you can opt for both a horizontal stacker or a vertical stacker.
In this last case, it may be a good option when you want to emphasize the height of your room making the walls seem taller.
3. The Herringbone:
Ever since 2018, we have been seeing the Herringbone tile pattern gain more traction and popularity. The truth is that it's not only a beautiful pattern as it can also create a sense of space in a small room.
Ultimately, this pattern also delivers flow and graceful movements.
The Herringbone pattern involves using rectangular tiles placed as a "V" shape. However, you can add this "V" shape in different ways so that you get the result that you want.
For example, you may lay these tiles pointing up a wall or floor or you can simply lay them to simply run across the wall or floor.
One of the things that you should do in case you decide to use the Herringbone pattern is to use contrasting grout. But in case you are looking for a more free-flowing pattern, then just pick the grout that matched the tile color.
This tile pattern has been incredibly popular in Europe for centuries because it is very elegant. This also means that it won't go out of trend anytime soon.
While you may be a DIY kind of person, we do believe that this is the type of tile pattern that should be installed by a professional and experienced team.
4. The Brick Layer:
The last tile pattern for walls and floors that we want to tell you about is the bricklayer pattern. While it seems a very simple tile pattern, the truth is that it can be very attractive at the same time.
Simply put, when you opt for this pattern, the end of each tile is lined up with the center of the tile above and below it to create staggered grout lines.
Notice that there are also similar tile patterns that instead of being lined up with the center of the tile, are lined up with 1/3 of the tile above and below.
This type of pattern does add an industrial and modern look and feel to your room and it's a great way to hide imperfections such as crooked walls. After all, offset grout lines will make it a lot more difficult for the eye to focus on minor flaws.
Bottom Line
As you can see, you can lay these tile patterns on both your floors and walls. All you need to consider is the final look and feel that you want to get as well as the dimension of the floor or wall.