Make Your Property Into Shoot Location — Most of your friends are budding photographers. They've been covering different occasions such as weddings and birthdays. They also post all of their work on different social media platforms as one way of getting more clients.
Recently, they informed you that they're planning to use your property in a shoot location for professional photos. They told you that this is an excellent avenue for your property to be exposed while you're earning at the same time. Thinking that this is a win-win situation for you, you agreed.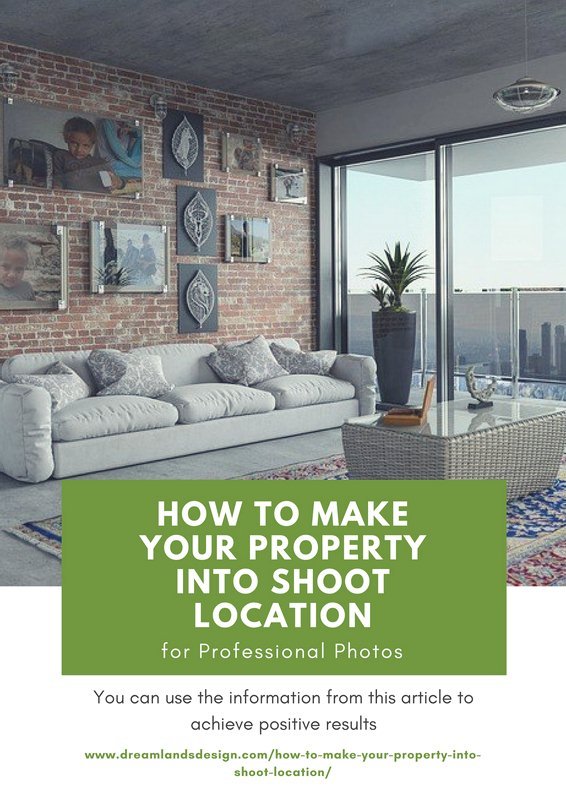 How to Make Your Property Into Shoot Location for Professional Photos
Just because your property is huge doesn't mean that it can immediately be ready to become a shoot location. Before you actually call your friends and have their equipment ready, there are still some things you should do to ensure that your property will look good in photos. To give you an idea of what are these, consider the list below:
Clean and Declutter
No one would want to see photos which are full of unorganized items in the background. This will make your photos look unprepared and your property dirty. Cleaning and decluttering is the first thing you should do to make your home into a shoot location. If there are items which are unused or broken, throw them out. You can even host a garage sale if you have enough items to get rid of!
Add the Color Red
There's actually a reason why ambulances are painted in red. This color is one of the most psychologically eye-catching colors.
So if you want to highlight something during the photoshoot, may it be your dining area or bedroom, make sure there's a red hue in it. Once viewers will see pictures of your property, they would immediately direct their attention to anything red.
Let in the Light
If you know a thing or two about photography, you'd recognize that light is essential to achieve a good photo. This is something which photographers can get outdoors but when it's inside a home, it might come off as a challenge. You can let the light in, in your property by opening the curtains and pulling up the blinds. If you have a fireplace and the season is right, light it up when the photo shoot starts!
---
Must Read:
---
Steam the Bed
The bedroom is one of the most personal areas in a home. If the photoshoot will take place here, take the time to steam the pillows and comforter to get rid of wrinkles. You should also arrange neatly your pillows on top of the bed. To make your bedroom look bigger, place the pillows on the edge of the bed.
Don't Shy Away From Styling
It can be tedious but styling can do wonders for your photos. And no, this isn't cheating at all. When you're styling your property, you're making it look the best it can. Arrange your throw pillows accordingly, add in a few flower vases and change your curtains. These might be small changes but these details can have a big impact on how your photos will look.
Add Accents
Most of the time, homes are painted with the same hues – the living room in beige and the dining area in blush. Pieces of furniture in these might also be in the same color scheme. And while this can look good, adding a few accents can make it look better in photos. If your living room is in beige, don't be afraid to put a pot of plants in different sizes for a pop of color.
Do Some Tweaks
There are many applications and software which can help you tweak your photos to make them look professional. Use these to your advantage after the shoot. A little cropping and adjustment in brightness will go a very long way for your photos.
---
Must Read:
---
Your Property Reflects You
Every homeowner would want their properties to look good all the time. When a property is aesthetically pleasing, it can reflect on the personality of the homeowner. And using a property into a shoot location can be an excellent way to show the public how you are as a homeowner.
You can use the information from this article to achieve positive results. Once you've done this successfully, you'll be surprised how more and more photographers will use your property as a photo shoot location for professional photos!
---
Author Bio

Steve McIntyre is a writer contributing works to Photoshoot Locations from time to time. He extends a particular care for his readers that is clearly seen in the things he writes. He makes sure topics he discusses aren't only properly explained, but entertaining as well. As a photography enthusiast, he's currently trying to tackle street photography with his film camera.
---