The kitchen forms a fundamental section of our homes. That's why we refer to them as the 'heart of our homes'. In fact, kitchens add value to a home.
Therefore, when you want to add a sense of unique style and elegance to your home, the kitchen is one room to prioritize for trendy remodeling designs.
In the modern-day, home buyers want homes with stylish kitchen appliances. This is evident with an American study, which states that 69% of homeowners find the kitchen as the primary home selling point.
For example, uniquely designed kitchen cabinets are a plus for home sellers. They are a part of buyers' focus.
You cannot talk about trendy kitchens without mentioning the kitchen cabinetry models. Currently, it is an essential feature of your kitchen's style, especially when remodeling.
Perhaps you want some trending kitchen cabinets for your home. How do you choose the model that you'll live to cherish for years ahead? Read to find out more.
As you remodel your kitchen in 2021 and beyond, think about switching to the unique kitchen styles as below:
1. Consider the Sink Base Cabinets
Sink base cabinets are designed to work with a sink. The cabinet style you choose will depend on the type of sink you install.
Such types of cabinets do not have a back panel to allow enough room for plumbing work. Instead of the real drawers, they have false drawer fronts that balance out the cabinet look.
Most importantly, you can construct the cabinet from the same wood as the other cabinets in the house. The finishing, plus the door styles, can match the other units to enhance the beauty of your home.
Before obtaining the sink base cabinet, ensure you decide the type of sink you wish to use. This is because the style of the sink will likely affect the type of cabinet you should install.
Therefore, when choosing the cabinet, ensure you prioritize the functionality you need to decide on the sink design.
The farmhouse sink is one design that is becoming extremely popular. Such sinks are popular because of their extensive sizes, which adds style and comfort to their usage.
Most importantly, the farmhouse sinks match well with various kitchen cabinet designs. They are also a perfect complement to hardwood kitchen floors.
Professionals giving you more info about the farmhouse kitchen sinks will tell you that these sinks come in different materials. Such include marble farmhouse sinks, fireclay farmhouse sinks, stainless steel sinks, copper and granite sinks.
For the farmhouse design, you can choose to go with either the apron front sink or single bowl undermount sink types as below:
a. The Apron Front Sink
The apron front is a drop-in type of sink with an open front-facing side. With this design, you can add the sink to a space cut out for the kitchen cabinet. As a result, the sink blends seamlessly with the cabinetry for aesthetic purposes.
b. The Single Bowl Undermount Sink
The single bowl undermount sink designs are usually fitted to granite and solid wood worktops. They are fixed to the solid worktop underneath to form a smooth finish. The undermount sinks can be in the form of granite, ceramic, or stainless steel materials.
Such sinks are ideal for larger items like stockpots, skillet handles, and cookie sheets. With the deep sink basins, you can keep dirty dishes, and no one gets to see them.
---
Read Also:
---
2. Go Bold on Colors
Homeowners are now seeking unique colors that stand out. They want cabinet colors that work for their kitchens and bring out their personalities.
People are now inspired to try out bold statements. Apart from white, gray, and two-shade colored cabinets, the deep-toned kitchen cabinets seem to dominate the present trends. Homeowners are now adding bolder color schemes to their cabinet designs.
Bold color paints on cabinets make your kitchen unique and attractive. No wonder dark blue cabinetry has been trending the last few years and is still expected to grow in popularity.
The dark blue cabinets bring out boldness and can be used as an accent color on the cabinets. You can also incorporate the color into your entire kitchen so you have a running theme.
The past few years have seen the dark and navy blue kitchen cabinets gaining access to interior design magazines. Top designers are now using this tone in new and remodeled luxury kitchens.
Most cabinet manufacturers are also utilizing dark blue shades in their standard color offers. Others are considering it as a custom color. They are using it as the latest cabinet color finishes, which are appealing to many eyes.
As you go bold, those who wish to order custom-made cabinets have the liberty to choose the ones with bold colors.
Again, if you are remodeling your kitchen and you already have cabinets, you can get ready for some thorough DIY painting work. That is if you love handwork.
Better yet, you can go for a professional painter who can transform your entire kitchen's look.
3. Choose the Wood-Stained Rustic Look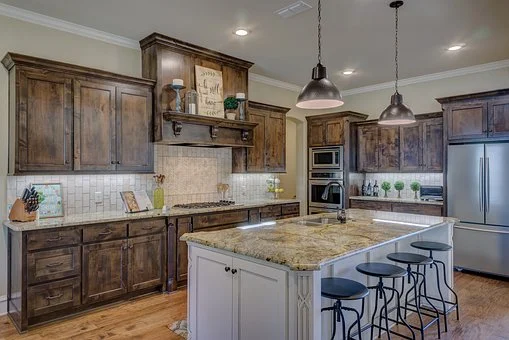 Some of the remarkable cabinet trends evident in 2021 include the wood-stained kitchen cabinetry for a more traditional kitchen style. Wooden cabinetry can especially appear unique and elegant with a contemporary and rustic look.
As you transform your kitchen's look, why not add some unique wooden kitchen cabinets with a rustic look. You can also change your available cabinetry and give it a fresh look by integrating the varnished wood accents.
The style seems to be trending with the modern farmhouse kitchen. Perhaps you may ask yourself, how do you make your cabinets appear rustic?
Considering the rustic elements with some touch of unique shades, you can always incorporate striking colors without messing up your farmhouse kitchen design.
You can attain the unique and stylish rustic look in the following ways:
a. By Distressing Cabinet Doors
You can make the cabinet door appear worn and weathered with paint. Here, you need two contrasting colors that go well together. You then have one color painted on the cabinet doors.
Once the cabinet door is completely dry, a glaze tinted with the second color is applied on top. What follows is wiping off the glaze from the door edges. Ensure the cabinet door appears as if the paint was rubbed off over the years.
In addition, you should apply a second coat of paint and sand through it. Ensure you scratch and roughen it appealingly.
b. By Adding Natural Woodgrain
For the cabinets that do not have natural wood grain, you can imitate the design with paint. It will appear more rustic than the plain cabinet.
The easiest way to create wood grain with paint is to use a wood grain rocker. Have the cabinet doors painted with a natural-looking brown color, and let them dry out. Afterward, apply a darker color, combined with the glaze on top.
Gently rub the wood grain rocker alongside each cabinet door to attain a real-like wood grain in the glaze.
4. Go for the Open Shelving Style
Open shelving, driven by the farmhouse movement, is a design trend that appears to have gained popularity in the past few years.
If you don't like the cramped and confined arrangement of items in your cabinet, then this is ideal for you.
Open shelves allow you to add a touch of personality to your kitchen. You can do this with uniquely arranged accessories on the shelves.
The openly displayed luxurious appliances give your kitchen a fancy look.
Again, when the utensils are well-arranged on the open shelves, you can easily access them.
Your mugs, bowls, plates, pans, and pots are conveniently stored beneath the countertops in the drawers. This makes it easier to grab them anytime you want.
Furthermore, when your pantry items such as the pasta boxes and baking items are well-stored in deep drawers, you can access them faster.
With the open drawer system gaining popularity, people are now becoming more creative. You will also find appliances like microwaves and refrigerators stored below the countertop.
Conclusion
Gone are the days when kitchen cabinetry was just for storage. In short, cabinetry is the jewel that attracts all eyes to your kitchen.
The modern kitchen cabinets now include fresh and appealing designs that excite the homeowners and make them glued to their kitchen spaces.
It's time to look at the new cabinet trends and find out how they can make your kitchen interiors exceptional.
Whether you want to add some new shades to your kitchen cabinets or replace them wholly, the cabinetry trends we've discussed should offer you the style you need for an attractive kitchen.